The words dementia and Alzheimer's have very different definitions but are frequently misused. Knowing the difference helps get affected people on the right medical track.
June is Alzheimer's and Brain Awareness Month. About one in five of the participants in our Adult Day Health Care service currently has an Alzheimer's diagnosis, and many others suffer from various forms of dementia. Here's the main thing you need to know: Alzheimer's is one of the many causes of dementia. Let's get into the details.
Dementia is a general term that refers to a brain disorder causing a decline in mental abilities. The syndrome caused by many things — a stroke, head trauma, a tumor, Alzheimer's, or other disorders. Dementia is progressive and causes changes in a person's mood, personality and ability to communicate over time. There are many types of dementias. For example, a stroke can lead to vascular dementia; Parkinson's disease can result in progressive dementia.
Alzheimer's is the most common type of dementia. It is a disease that causes the destruction and death of nerve cells in the brain. With Alzheimer's, abnormal buildup of proteins in the brain interfere with brain function. Over time, brain size decreases.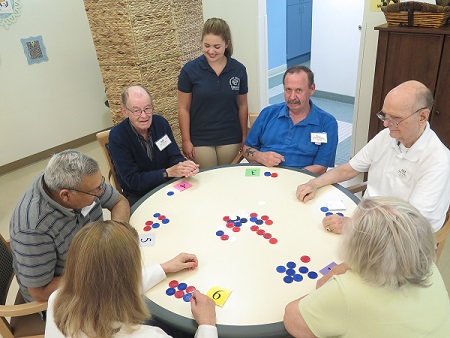 Getting a diagnosis connects the patient with a health care plan suited to their needs, said Leah Freij, Center Nurse Coordinator of the Health Department's Herndon Harbor Adult Day Health Care Center.
Nothing stops or slows the progression of Alzheimer's, but getting the right medications and a daily routine will help address changing physical health and cognitive issues specific to this type of progressive dementia.
Adult Day Health Care Offers Respite for Alzheimer's Caregivers
Adult Day Health Care is an essential service for caregivers of Alzheimer's sufferers and those who have other cognitive and/or physical impairments. With four locations, full-day hours (Monday - Friday 7 a.m. - 5:30 p.m.) and a sliding fee scale, Adult Day Health Care is community-based care that helps caregivers stay on their feet.
When you board an airplane, the flight attendant tells you to put the oxygen mask on yourself first then to help your children. That's because you need to make sure you're stable before you can be of any assistance to them. Caregiving is the same — you need to take care of yourself before you can help someone else. Otherwise, you're both unstable, said Leah.
But there are more reasons to tap into Adult Day Health Care beyond caregiver respite. Namely, health care expertise. Many of our Adult Day Health care staff, including Leah, are Certified Dementia Practitioners, which means they are specially trained by the National Council of Certified Dementia Practitioners on Alzheimer's Disease and dementia care.
Alzheimer's is a very complex disease and is not a normal part of aging. Caregivers need resources to help them navigate care needs, and we're happy to provide this service to our families at our centers, Leah said.
Recognize the signs of dementia and contact us with your questions about Alzheimer's Disease and dementia care.