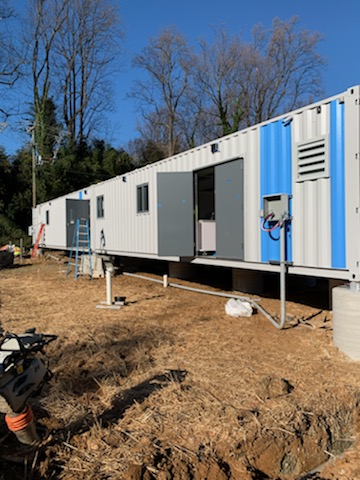 When the coronavirus pandemic reached Northern Virginia, county facilities were insufficient to meet the ongoing and future demands of a virus for a county with a population of more than 1,100,000 spread across 406 square miles. Staff at the Fairfax County Health Department knew a quick, reliable community-wide testing strategy would be critical. Attempting to "box in the virus" to prevent its spread would require more resources. Health Department staffing, equipment and space would need to be augmented – at least for the duration of COVID.
In March 2020 Health Department capacity was limited to testing 500 COVID samples daily using approved diagnostic testing methods. But staff projections showed a need to test twice that amount, or 1,000 samples per day, going into the fall 2020.  
Thanks to federal CARE funding distributed by the Virginia Health Department the county had the funding to expand its resources. Health Department human resources staff put together plans to recruit and train new staff, and the Health Department Lab Director Deb Severson met with the county's Capital Facilities staff (a division of the Department of Public Works and Environmental Services, DPWES) to put together criteria for a new medical laboratory (Lab). Every lab requires standard microbiological practices but testing for coronavirus required a Biosafety Laboratory Level 2 (BSL–2). This level of biosafety required certain specifications such as ensuring the flooring, walls and ceiling would be impermeable and seamless, have self-closing, lockable doors, have a sink and eyewash station, a dedicated supply/exhaust, 100% air exchange every 12 minutes; passthrough autoclave; self-closing doors; HEPA Air filtration, ducted air ventilation system that must sustain directional air flow, and the ability to restrict entry among other safety specifications for benchtops, cabinetry and other add ins. The new building would be 1,550 square feet and have an accessioning laboratory, restroom, administrative office and exam room.
The need was urgent, but normally locating an appropriate site or building, putting contracts together and retrofitting or renovating a space takes many months, even years, including applying for and obtaining appropriate permits. In this case, time was of the essence and the county had less than six months to spend the funding from the state.
After consultation with various county departments, including Land Development Services (LDS), it was determined a prefabricated structure could meet the requirements for a BSL-2 lab, meet additional building codes and would be the most economical and time-efficient structure to use. This would be the first structure of this kind – cargo containers – used in Fairfax County. Once the requirements were documented, the Department of Procurement and Material Management sent out a request for proposal in August.  
 Synergy Med Global Design Solutions, LLC, (Synergy Med) won the competitive bid to be the supplier of the new lab. (Watch a Synergy Med video about the project.)
County staff from LDS and DPWES worked closely with the designers – architects and electrical, plumbing and mechanical engineers at Synergy Med -- from the first meeting on November 13, 2020, through issuance of the building permit on December 8. The deadline for installation was December 30 due to the funding restrictions. Scott Bishop, a project manager for Building Design & Construction Division in DPWES, oversaw the entire project from start to finish including all the on-site work in Fairfax County, and Jennifer Josiah, of LDS, was the project manager, coordinating with divisions within LDS, the Department of Planning and Development, the Fire Marshal's office and Wastewater Planning (also in DPWES) for plan review, permit issuance and inspections. It took countless virtual meetings, emails and phone calls with people across the U.S., Colorado, Minnesota and Hawaii to finalize the details and make sure every aspect of the structure was completed according to code.
Modular facilities follow a separate section of building codes than typical commercial structures such as restaurants, retail stores and office buildings. The prefabricated (or "prefab") building Synergy Med constructed for the county started with cargo containers. But, because the containers were going to be modified and the exterior would be pierced, they had to be reviewed under the 2015 Virginia Construction Code, just like any other commercial building. This type of building is often used by the U.S. military overseas to help triage medical patients in the field.
Synergy Med built the structure in Minnesota where they are located. Inspectors from Land Development Services in Fairfax County were able to see the building being put together remotely using FaceTime and other virtual tools including a 3d video. This was important as some of the components county inspectors needed to see would be concealed behind walls before the building was delivered to Fairfax County.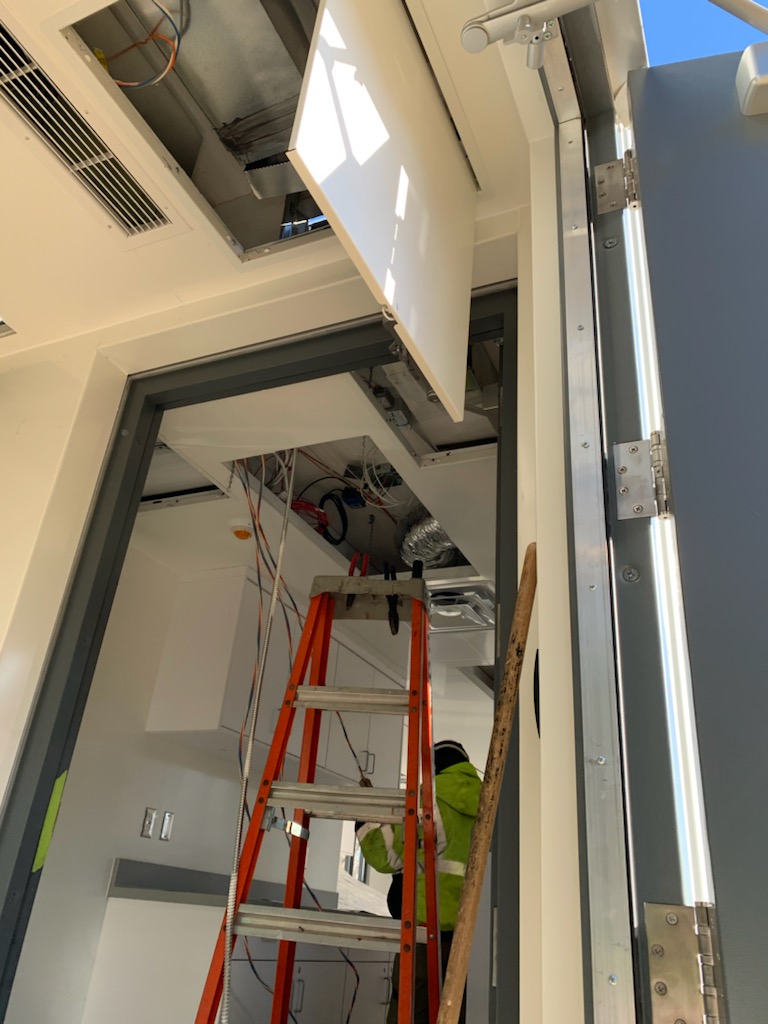 The Lab consisted of five cargo containers, so inspections had to occur on each container. The containers were transported individually and then locked together on site in Fairfax County.
The Lab was loaded onto trucks in Minnesota on December 23 and arrived in Fairfax County on December 28.
After delivery, the Lab was placed on concrete piers using bolts and put together like a puzzle. Once it was deemed structurally sound and safe to enter, it was wired for the Health Department's DIT specifications and the furniture was placed while utilities were connected, and final inspections were performed. The Non-Residential Use Permit (Non-RUP) and Certificate of Occupancy were issued for the facility on January 25, 2021, and the Health Department moved in shortly thereafter.
"This project was the result of an incredibly collaborative effort on the part of multiple agencies throughout the county. Everyone understood the urgency of the need and worked to get the lab in place as quickly and safely as possible, meeting the tight deadline for the necessary funding," said Project Manager Jennifer Josiah.
So, a project that could take more than a year to complete was operational in under 100 days. The team met the December 30, 2020, deadline for making the Lab fully functional, and occupancy was certified by January 25, 2021. The final cost of the facility was $4,000,000.
Fairfax County has expanded by one facility, temporary maybe, but fully operational, certified safe by staff at Land Development Services and meets the state-of-the-art standards for sanitization and medical testing.
More photos of the health Lab in this slideshow.
Contact Name
Mary Mulrenan
Contact Information
Public Information Officer
Fairfax County Land Development Services
703-324-2743, TTY 711