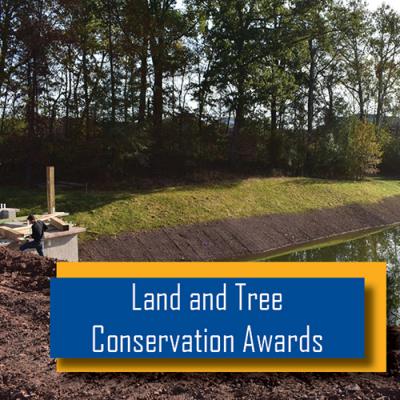 Please join us as we recognize land development firms who have worked hard to protect Fairfax County's environment in 2019. Their projects will preserve our soil, water and trees and add positively to the character of Fairfax County for years to come.
County Engineers and Inspectors of the Year will also be honored, whose adherence to best practices ensures that residents will see the highest quality developments in their communities.
Friday, January 24, 2020
10 - 11:30 a.m.

Fairfax County Board Auditorium
12000 Government Center Parkway
Fairfax, VA
2019 Land Conservation and Tree Preservation Awards
On Jan. 24, 2020, Fairfax County recognized contractors, developers, engineers, engineering firms and site superintendents whose projects best demonstrate excellence in erosion and sediment control design and implementation or a commitment to tree preservation and planting in Fairfax County.
The Winners of the 2019 Land and Tree Conservation Awards:
 
2019 Tree Preservation Awards:
Project: Difficult Run at Brittenford Drive
Developer/Owner: Fairfax County Stormwater Planning Division, Fairfax County Park Authority
General Contractor:  Environmental Quality Resources
Engineer: Wetland Studies & Solutions
Tree Preservation Consultant: Wetland Studies & Solutions
Tree Preservation Contractor: Titan Tree Care
Project: 5210 Prestwick Drive
Engineer: Wetland Studies & Solutions
Tree Preservation Consultant: Wetland Studies & Solutions
Project Arborist: Wetland Studies & Solutions
Tree Preservation Contractor: Muller Erosion & Site Services
2019 Tree Planting Award:
Project: Colts Neck Senior Housing
Developer: Atlantic Realty Companies
General Contractor:  Balfour Beatty
Landscape Architect: Urban, Ltd.
Landscape Contractor: Fine Landscapes, Ltd.
Tree Preservation and Planting Awards Nominations
Awards for Tree Preservation are presented to recognize those developers and builders who have gone above and beyond basic requirements preserving trees on a project they have constructed. Nominees shall have made a commitment towards tree preservation during the planning stages by designing the project to preserve the maximum number and the most suitable trees possible, given the existing resources and site constraints. This commitment shall have been further demonstrated by ensuring the installation, maintenance and honoring of tree protective devices throughout construction of the project to achieve the planned preservation.
Awards for Tree Planting and Landscaping are presented to recognize those developers who have gone above and beyond basic requirements replacing trees that were unavoidably harmed or destroyed due to development. Nominees shall have made a commitment toward tree conservation in planning and implementation by planting the most suitable species based on post-development conditions and providing for the long-term survival of planted trees through best practices. Planting to take advantage of energy conservation opportunities, provide air and/or water quality and wildlife benefits. Strong consideration for using appropriate native species and improved cultivars and varieties, will all be part of the nomination process.
Nominations will be accepted all year, but the cutoff for award considerations will be by September 30 each year.
History and Background:
The Land Conservation Awards program was established during the early 1970s through combined efforts with the United States Department of Agriculture's Natural Resources Conservation Service, together with the Northern Virginia Soil and Water Conservation District and Department of Public Works and Environmental Services. The reason was to provide incentives for developers to participate in reducing erosion at their construction sites and to publicly recognize construction sites with the best erosion and sedimentation control plans that were correctly implemented and properly maintained. Then in the early 1980s, the Tree Preservation and Planting Awards were added to the program to recognize developers who have done an outstanding job of preserving trees and/or incorporating landscaping into their sites
During the period of the early 1970s, Fairfax County and its partner agencies took the lead in Virginia to establish erosion and sedimentation control standards for construction sites, and the county Board of Supervisors signed an agreement to participate in the watershed management program referred to as Public Law 566. That watershed management program was designed to minimize flooding and reduce erosion within the Pohick Creek Watershed by requiring that certain minimum standards of erosion and sedimentation control measures be installed and maintained at construction sites. It also required localities to provide training opportunities for members of the private and public sectors that would be designing, reviewing and approving erosion and sedimentation plans, installing and maintaining the approved measures and inspecting the installations.