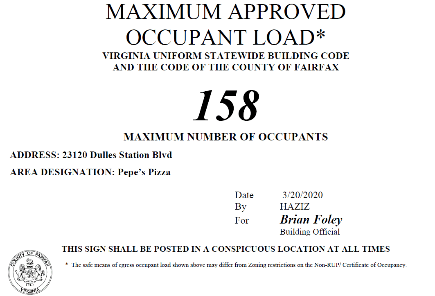 The Virginia Construction Code and Statewide Fire Prevention Code specify the posting of the maximum number of occupants for the assembly spaces listed below:
Conference rooms/centers
Theatres
Banquet halls
Nightclubs
Restaurants/bars/dance halls
Art galleries
Bowling alleys
Community centers
Lecture or meeting spaces
Gymnasiums
Swimming pools
Places of worship
Pool/billiard parlors
Arenas
Skating rinks
If your business does not fall within one of the categories listed above, you cannot obtain a maximum occupant certificate from the county. In such cases, if you wish to determine your facility's occupant load, you must contact a registered design professional (architect or engineer).
Maximum occupant load certificates are required in accordance with the criteria listed below.
A room or space with an occupant load of 50 or greater requires an approved posting. Spaces with an occupant load less than 50 do not require a sign.
Occupant load signs can be obtained for businesses and organizations in Fairfax County, the town of Clifton and the town of Vienna.
Maximum occupant load signs can be framed with a clear cover.
It is recommended that you file a copy with your landlord or otherwise safeguard copies of all occupant load certificates in the event posted signs are lost or rendered illegible.
The sign is required to be posted in a conspicuous location near the main exit.
Rooms or spaces with multiple configurations, such as a hotel ballroom, may require multiple signs.
For more information on maximum occupant load certificates or to obtain a new certificate, please contact by email or phone at 703-631-5101, TTY 711.
The Maximum Occupancy Certificate Viewer allows businesses and the general public to find posted maximum occupancy loads of assembly spaces.
Permit and Submission Requirements
To obtain a maximum occupant load certificate you must apply for a permit online, pay the minimum permit fee and upload your plans and documents using ProjectDox. While this is a separate permit, it can be obtained in conjunction with a new tenant permit.  After the permit and plans are approved, you must schedule a final inspection in order to receive the actual placard. Your submission package must include the following:
A copy of the floor plans and seating diagrams (see below).
For existing tenants: one copy of a valid certificate of occupancy, also called a Non-Residential Use Permit or Non-RUP.
One copy of any special permits issued by the zoning office of your jurisdiction.
Any other document pertaining to occupancy limits.
Floor Plans and Seating Diagrams
Floor plans and seating diagrams must include the following information:
Seating diagram of each assembly area, room, or space requiring an occupant load sign. If you are obtaining this permit in conjunction with new tenant permit, this may be part of the tenant plans.
Original signature, date and seal of a design professional, architect or engineer registered in the commonwealth of Virginia.
Assembly areas using multiple configurations, such as hotel ballrooms or school gymnasiums, may have different seating diagrams/occupant loads for each use. The configuration resulting in the largest number must be submitted.
Plans must be dimensioned and drawn to scale, 1/8 inch = 1 foot, or larger.
The proposed occupant load, and how it was calculated.
Rest room locations and number of water closets serving the assembly area.
Actual shape and dimensions of the assembly area(s).
Actual or intended use(s) for each assembly area.  If multiple configurations are anticipated, show the one resulting in the highest occupant load. If there are folding partitions, then there should be a number provided for when the partition is open and another for when it is closed.
Location and sizes of stages, dance floors, non-fixed seating, fixed seating, booths, tables and chairs as well as other fixture(s) such as pool tables, bars and pews.  Show the length of booths and pews.
Location and clear width (in inches) of each exit door, aisle, corridor, and stairway leading from the assembly area and along the means of egress to the exit discharge.
Location of all "EXIT" signs. 
Exit doors direction of swing and type of hardware (i.e., approved panic hardware or fire exit hardware).
Indicate if the building is fully sprinklered and if a fire alarm is present. 
For spaces with an occupant load of 100 or more, the wiring type must be shown to conform to the National Electrical Code assembly requirements.