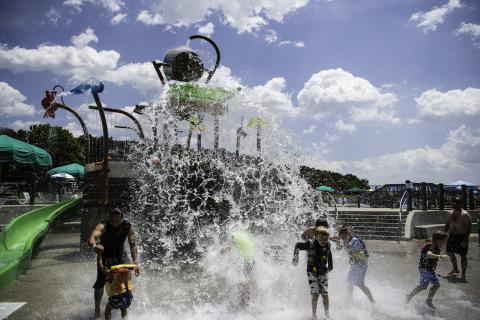 Get ready to have fun in the sun with Fairfax County Park Authority this summer! May 27 is opening day for a wide variety of entertaining activities for families, friends and entire communities to enjoy at our local parks. From award-winning water features and waterfront parks to mini golf and amusements, there is something for everyone.
Water Park, Pool and Sprayground
Visit the Fairfax County Park Authority's award-winning Water Mine Family Swimmin' Hole, the Our Special Harbor Sprayground and the Martin Luther King Jr. Park Swimming Pool. These popular destinations are fantastic options for families to come and cool off on a hot summer day.
Mini Golf
Hit the course with the family for a round of mini golf at four locations this summer.
Carousels
Enjoy a ride on one of the Authority's enchanting carousels at several park locations (weather permitting).
Mini -Train
Take a scenic ride through the park on our mini, passenger trains.
Marina
Get out on the water by renting a kayak, canoe, paddleboard, pedal boat or other boat at one of our marinas. Many allow you to launch your vessels as well, check online for additional guidance and regulations.