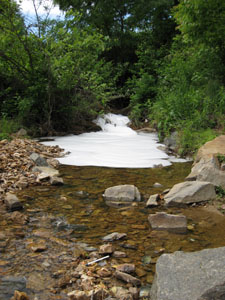 Dirty water from vehicle and equipment cleaning should not be allowed to run into storm drains. Water from washing cars may contain oils, greases, solvents, detergents, petroleum hydrocarbons and other pollutants that degrade water quality and harm fish and animals that live in streams.
The storm drainage system is separate from the sanitary sewer system. Storm drains convey stormwater runoff from the roads directly to local creeks and streams. It is not treated before entering the waterways. The sanitary sewer system carries wastewater from homes or businesses to a treatment plant before it is cleaned and later released into the environment. .
The Stormwater Management Ordinance (Chapter 124, Article 9 of the Fairfax County Code, effective July 1, 2014), prohibits untreated and unpermitted vehicle wash water from entering the storm drainage system or streams. Currently, individual residential car washing is exempt from this regulation. In addition, commercial car washes must comply with the wastewater discharge and plumbing requirements that are specified in Chapter 67.1 and Chapter 65-6-11 of the Fairfax County Code which states that all car wash installations shall be equipped with a water recycling system approved by the county building official. More information on what can be directed to the sanitary sewer system may be found within the industrial waste and pretreatment car wash policy.