An iPad, Skype and a secure internet connection can make a huge difference in evaluating and managing an inmate experiencing a mental health crisis. The Fairfax-Falls Church Community Services Board (CSB) provides behavioral health services in the Fairfax County Adult Detention Center seven days a week, during daytime and early evening hours.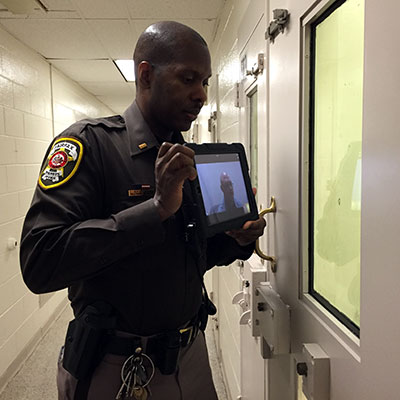 Fairfax County Sheriff Stacey Kincaid initiated telepsychiatry at the ADC in January 2016 because a mental health crisis can occur at any time, day or night. "About one-third of our inmates have a behavioral health issue," Kincaid said. "Since we don't have CSB staff in the jail around the clock, we can use technology to increase access to emergency mental health services."
Steven Black is a supervisor of the CSB's Mobile Crisis Unit. "Being there in the jail is always the better way to do an evaluation. But when that's not available, this is definitely a viable alternative. With this technology, we can at least try to help the individual get to where they need to be and really improve their care."
Kincaid said that telepsychiatry has proven to be effective in correctional environments. "It should definitely help us better meet the needs of our jail population and also improve safety for our staff."