March 7, 2023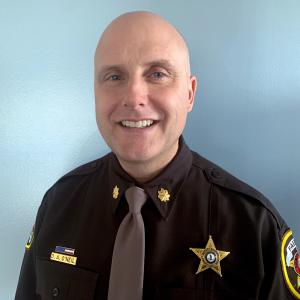 Sheriff Stacey Kincaid has promoted David O'Neil from Captain to Major. He now commands the Confinement Division, one of four divisions that support the Sheriff's Office mission. As a Captain, he previously served as the Professional Services Branch Chief and Confinement C/D (Squads) Branch Chief.
Major O'Neil has been a strong and innovative leader during his 26 years with the Sheriff's Office. As a First Lieutenant, he led his squad in the Adult Detention Center (ADC) through the ever-evolving changes and stresses of COVID-19. As a Second Lieutenant assigned to the courthouse, he led the facility security section, keeping the courthouse environment safe for the tens of thousands of visitors each month. He broadened the responsibility of the Courthouse Facility Security Unit to include patrolling the Courthouse complex to deter, and respond to, any threats or crimes committed on the grounds.
As a Second Lieutenant, Major O'Neil was responsible for facility maintenance in the Support Services Division. He managed three major initiatives in the ADC, including the "grinder" machine project, which addressed the clogged wastewater lines originating in the ADC; the elevator renovation project; and the creation of 30 additional ADA compliant cells to sufficiently accommodate inmates with disabilities.
He currently serves as the Sheriff's Office trustee on the Uniformed Retirement System Board. He previously represented the employees of the Sheriff's Office (sworn), Courts and Office of the Commonwealth's Attorney on the Fairfax County Employee Advisory Council.
Major O'Neil earned a bachelor's degree from George Mason University in 1996, majoring in Administration of Justice. He is a graduate of the FBI's Executive Leadership Institute and Command Leadership Institute and the Disney Institute for Professional Development and Leadership.