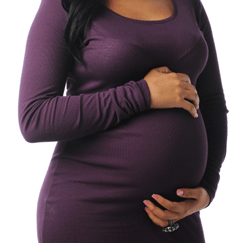 Nationally, opioid use disorder is increasing at alarming rates for both men and women, but the prevalence of prescription opioid and heroin use among women is staggering. According to the Centers for Disease Control and Prevention (CDC), between 1999 and 2015, the rate of deaths from prescription overdoses increased 471% among women, compared to an increase of 218% among men. Heroin deaths among women increased twice as quickly compared to men.
Seeking help for using drugs or alcohol during pregnancy can be difficult and it can be even more difficult to ask questions about how drinking and drug use during pregnancy may affect children. Many women delay prenatal care and treatment for substance use disorders because they fear being viewed as a "bad" mother and that seeking treatment will result in their children being removed from their care.
But, here in Fairfax County, there is help. The Fairfax-Falls Church Community Services Board (CSB) is a safe and non-judgmental place where pregnant women can get help with a substance-use disorder so that they can have a healthy and safe pregnancy and birth. Pregnant women are considered a "priority population," which means that they will go to the top of wait lists for assessments, treatment and medications. Pregnant women will be seen within 48 hours; every minute counts.
Lauren Krause Nickum, manager of the CSB's substance abuse outreach monitoring and engagement program (SOME) explains, "We know that there are pregnant women who are struggling and may feel helpless; we want them to know we have resources for them and we want to help."
For pregnant women who are using opioids, Fairfax County has a contract with the Alexandria Methadone Center so that they can be safely transitioned to methadone for the duration of their pregnancy. Since services for pregnant women are prioritized, they can usually be started on methadone within a few days of being found eligible. While on methadone, case managers from the CSB will work with the woman to help her obtain prenatal care and treatment for her addiction. After she gives birth, the woman will be taken off methadone safely over a period of months and will be offered the opportunity to engage with Suboxone (a medication that is used to control cravings and drug withdrawal symptoms) services if she chooses.
The CSB has specialized substance abuse programs that are available to pregnant women, including outpatient services and New Generations residential treatment program. Depending on need, a pregnant woman will be referred to one of these programs after being assessed for services. If she is taking methadone, she will attend the recommended program concurrently with methadone treatment.
If you or someone you know is pregnant and struggling with drug or alcohol use, call Entry & Referral Services (703-383-8500, TTY 711) for more information as soon as possible, or come to the Merrifield Center Monday through Friday, 9 a.m. to 5 p.m. to be screened for services. Youth walk-in evaluations are offered during these times and also until 7 p.m. on Tuesdays. [Learn what happens during an assessment.] In a life-threatening emergency, call 911. In a substance use emergency, call the Fairfax Detoxification Center any time 24/7, at 703-502-7000 (TTY 703-322-9080).
Learn more about the CSB's SOME program, pregnancy and opioid pain medications, and the risks of opioid misuse during pregnancy.
It is possible to recover and break the cycle of addiction. Support is available now; reach out.