Did You Know?
Fathers, like mothers, play a significant role in their children's psychological and emotional development. When fathers are actively involved, children are less likely to experience:
Mental illness
Juvenile delinquency
Youth sexual activity
Teenage pregnancy
Substance use
Childhood poverty
High school drop out
We Believe:
Fathers are irreplaceable in the lives of their children
There is a direct link between positive father involvement and child well-being
Fathers contribute to their children's safety and stability.
Do You Want to Improve Your Parenting and Fathering Skills?
Our Father Engagement Unit sponsors the services and activities below to enhance fathers' parenting and fathering skills, and to promote and celebrate the importance of fathers in Fairfax County.
Enroll in a FREE Dads Parenting Group by completing this form. (For Fathers Only)
Pre-registration is required. For information or to register call Bennie Herron at 703-324-7308, TTY 711; Champana Bernard at 703-324-3611, TTY 711; or Kimberly Torres (Spanish) at 703-324-3064.
Dads Parenting Classes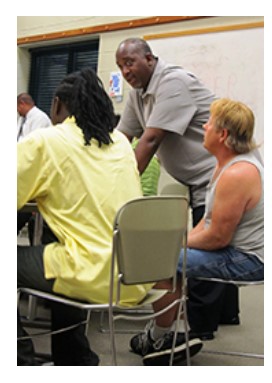 It's a fact -- fathers are important to their children. Their positive involvement contributes to child safety and well-being. Dads Parenting Classes focus on self-awareness, self-care, parenting skills and relationship skills.
Program Includes
24/7 Dad™ parenting group
Meals
Access to Fairfax County resources
Access to father-child friendly community activities
Characteristics of a 24/7 Dad™
Self awareness
Caring for self
Fathering skills
Parenting skills
Relationship skills
12 Sessions and One Orientation Meeting - Free for all participants!
UPCOMING CLASSES
Southgate Community Center
Mondays, May 7 - August 6
6 - 8:30 p.m.
Westlawn Elementary, 3200 Westley Road, Falls Church, VA 22042
Wednesdays, September 12 - December 12
6 - 8:30 p.m.
Pre-registration is required. Call Bennie Herron 703-324-7308, Kimberly Torres 703-324-3064 (Spanish) or Calvin Robertson 703-324-7730.
Volunteer to help teach the Dads Parenting Classes!
Checkout the First Pocket Dad Video - Intro to Free Parenting Classes
June is Fatherhood Awareness Month
With engaged fathers children are less vulnerable to myriad risks, including childhood poverty, substance abuse, juvenile delinquency and teen pregnancy. Learn more about fatherhood awareness.