Article by Tanya Erway, Recruitment Manager, Volunteer Solutions
(Posted 2020 November)
---
"Fairfax County's volunteer program has given me enormous opportunities to grow as a person," gushed Ruhi Ahmed. Ruhi is a volunteer virtual social visitor with Fairfax County Volunteer Solutions. At various times, over the past several years, she has also volunteered as an in-person social visitor, an administrative assistant and a Meals on Wheels driver.
Ruhi and her husband arrived from the United Arab Emirates to Fairfax County in 2006. She was pleasantly surprised that it reminded her of Dubai. In her words, it's because of "diversity, acceptance, blended cultures, it's a spice hub for culinary exploration, nature, parks, the ability to nurture your dreams, and, above all, the freedom to create a contented life."
Since she came from a big city, Ruhi learned how to drive after she got here. After she got her driver's license, she became a Meals on Wheels driver. Not only did she deliver food to others, but she also read maps and became more adept at driving as a result. She would even take her eight-month-old son with her—a testament to her dedication. That baby is now in eighth grade, and he also has a brother in sixth grade. She and her husband have been volunteering with their boy scout activities for six years. Ruhi has also worked in paid positions as an analyst, contractor, and, at one point, for Fairfax County in the Self-Sufficiency unit.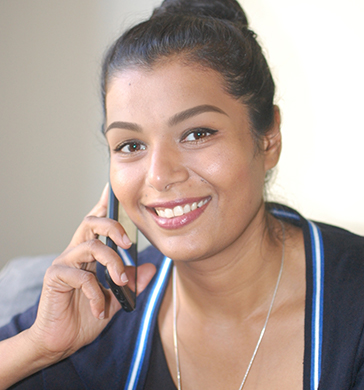 In May 2020, when Ruhi learned that Volunteer Solutions created a virtual social visitor role, she jumped at the chance to help reduce social isolation. She was connected to a woman in her eighties who had some memory loss and resides in assisted living. We are referring to her as Dr. S.
Ruhi shared that Dr. S has a remarkably optimistic view of life despite her challenges.
She had an impressive, long career as a microbiologist (during a time when it was rare for women to be in that field) and even wrote one of Ruhi's textbooks, which she used during her university studies in Pakistan.
For the first three months, Ruhi needed to re-introduce herself every time she called her. However, these short-term memory issues have never posed a barrier to their deep conversations about the meaning and purpose of life.
In August, something remarkable happened—Dr. S started remembering her! These weekly interactions are enriching for both women. Dr. S has even inspired Ruhi to have her college credits transferred here so that she can further her education.
Ruhi shared, "I am forever grateful for having been given the opportunity to volunteer. This year, I have learned that life can be unpredictable, but I am reminded of the importance of positive thinking, thanks to my client."
Fairfax County is fortunate that Ruhi's life's "twists and turns" led her to us. We appreciate all that she does and continues to do on behalf of others in the Fairfax community.
Learn about Department of Family Services Volunteer Solutions.
---
This article is part of the Golden Gazette monthly newsletter which covers a variety of topics and community news concerning older adults and caregivers in Fairfax County. Are you new to the Golden Gazette? Don't miss out on future newsletters! Subscribe to get the electronic or free printed version mailed to you. Have a suggestion for a topic? Share it in an email or call 703-324-GOLD (4653).
---