Article by Tanya Erway, Volunteer Solutions Recruitment Coordinator
(Posted 2021 March)

---
The icon of kindness, Fred Rogers, once said, "When I was a boy and I would see scary things in the news, my mother would say to me 'Look for the helpers. You will always find people who are helping.'" Helpers can be anyone—you, me, first responders, or volunteers like Fairfax County resident Kathy Jones.
As with "Mister Rogers," Kathy exudes kindness and warmth. Throughout her life, she has cared for others in many ways. To those who know her, it came as no surprise when she decided to learn life-saving techniques from the free Community Emergency Response Team (CERT) program.
The program is operated by Fairfax County's Fire and Rescue Department using federal and local funds. According to Kathy, it should no longer be the best kept secret in Fairfax.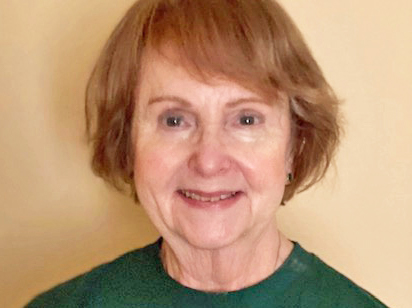 Kathy spent her first 24 years in Bronx, New York. She grew up with four siblings, her parents, and maternal grandparents. Her younger brother, Tom, is retired from the New York City Fire Department and one of the heroes of 9/11. His career, in part, inspired Kathy to join CERT.
In 1971, Kathy's husband was drafted into the army, and they moved to Fauquier County, Virginia. She recalls comical interactions that occurred when she and the locals had trouble understanding each other due to her thick New York accent and their southern drawls. Later, they moved to Fairfax County and she's been here so long that her accent is hardly detectable.
Prior to retiring from Fairfax County in 2015 as a Long-Term Care Ombudsman, Kathy held other positions helping others—mostly related to housing. She was part of a unit which helped resettle 100 Hurricane Katrina victims. She is forever troubled when derechos and hurricanes affect older adults.
Kathy's work and life experiences led her to CERT in 2013. A few years later, she joined the board of Herndon Reston FISH, a community group that helps people in crisis. She also volunteers with Faith Communities in Action, which is part of the Community Resilience Group under Fairfax County's Office of Emergency Management.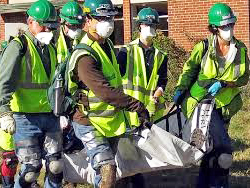 CERT is a free program that prepares people to safely help themselves, their families, and their communities when first responders are delayed during major disasters. People of all ages can be trained on important topics, including: fire suppression, turning off the gas, applying first aid, assessing for medical shock and severity of injuries, light search and rescue, and disaster psychology for victims and rescuers.
Kathy has been a local CERT team lead for seven years. She also serves as the outreach lead for community fairs and festivals. During the pandemic, the shift has been to virtual presentations. In addition, she and other CERT volunteers have been working to collect and distribute food and masks. At times, they may be called on to help with traffic and crowd management. What a wonderful role model for her son, two daughters and three granddaughters and others who are fortunate to know her.
To learn more about CERT, the free training, and tools (literal and figurative) they provide, and the good that it can do for you and others in your community, go to FairfaxCountyCERT.org, and/or their Facebook page at Fairfax County CERT. You will also learn about the importance of having a 72-hour plan in case of emergencies.
Sign up to receive Fairfax Alerts regarding emergencies, public safety, traffic, weather, and other important important county news at Fairfax County Alerts.
Submit county volunteer opportunities to Tanya Erway by email.
---
This article is part of the Golden Gazette monthly newsletter which covers a variety of topics and community news concerning older adults and caregivers in Fairfax County. Are you new to the Golden Gazette? Don't miss out on future newsletters! Subscribe to get the electronic or free printed version mailed to you. Have a suggestion for a topic? Share it in an email or call 703-324-GOLD (4653).
---