Article by Mary Jane Dye, Editor, Golden Gazette, Department of Family Services
(Posted 2021 March)

---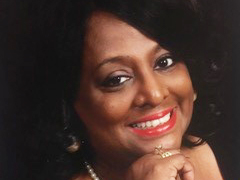 Sheryl Sims is a progressive artist, passionate genealogist, and poetic writer. She cleverly weaves these skills to create family art quilts.
Sheryl explains that, for her, art quilts are a freer form of quilting. "The traditional style, which is hundreds of years old, adheres to block patterns with set designs and styles," she says, and "I found that it didn't allow me to adequately express who I am, what I was feeling, or my personal experiences."
Sheryl's extraordinary gift to recreate her family's roots in America was surprising to her. Although she holds a fine arts degree, it wasn't until the pandemic that she realized her knack and love for art quilting.
"It brought peace during a time of stress and soothed my soul," she expounds. "It also allowed me to dig into my African American family history and depict my enslaved ancestors as human beings with grace and dignity. I also discovered my Quaker ancestry, reaching as far back as my 10th great grandfather, Valentine Hollingsworth, early immigrant from Ireland, and signer of the Great Charter."
Originally from West Africa, some of her relatives were enslaved in Louisiana, North Carolina, and other southern states. Sheryl's second great grandmother was a former slave in Minden, Louisiana, and her fourth great grandmother was enslaved by her fourth great grandfather and plantation owner, Calvin Leary.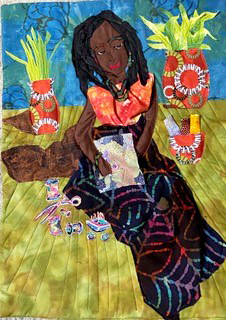 Sheryl's Quaker roots led to the discovery of her fifth cousin, six times removed, former Superintendent of Mount Vernon Estate, James Hollingsworth. Other Quaker Hollingsworth ancestors and their descendants connected her to Horace Buckman (of Buckman Road) and the Alexandria Quaker Meeting House, adjacent to the grounds of Woodlawn Plantation, former home of George Washington's niece Nelly Custis.
Another discovery is that her roots go back to the Revolutionary War. She is currently a prospective member of the Nelly Custis Chapter of The Daughters of the American Revolution, a lineage, service-based organization that continues to assist her in the discovery of her family history. Even with her family's painful slave history, Sheryl honors that history and the strength and endurance of her great grandmothers, in her quilts.
Some of her favorite pieces depict family members, while others are faith-based or purely whimsical. "I love depicting my daughter, cousins, and various passions. My current event quilts are halcyon and hopeful. Others are reminiscent of painful experiences," she shares.
Sheryl points out that her mood plays an important role when choosing fabric, color, and subject matter. "Color, texture, and design need to be meaningful." Another surprise is that her designs are not put to paper. "People are always amazed that I create this way," she laughs. "I simply visualize what I want to make and just start cutting and laying the scene
out."
Sheryl's work was recently on display at Woodlawn Pope Leighey House in Alexandria. She held two virtual presentations. Both segments engaged viewers with the stories behind each quilt. She even recites a poem, "And, So It Is…," that she wrote for one of the Slave Memorial's recognition ceremonies at Mount Vernon.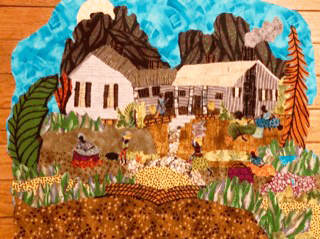 Sheryl says that she enjoys talking with people about creativity and quilting. "I firmly believe that art is subjective, and that there is no right or wrong—you like what speaks to you." Some say that she paints with fabric, and Sheryl agrees. "I see fabric with different eyes, not always using designs or fabrics in expected ways. Seeing what develops from a piece of fabric is always a happy surprise."
Sheryl stresses that you don't need to be perfect to be creative. She uses herself as an example and jokingly says, "My lack of skill is made up for in imagination." In the end, she advises everyone to focus on the importance of expressing themselves—no matter how one chooses to do so.
For those interested in quilting, Sheryl recommends joining a guild. For information on the Arlington Quilt Guild, please visit their website at ArlingtonQuiltersUnlimited. They also can give advice on locating a guild near your location.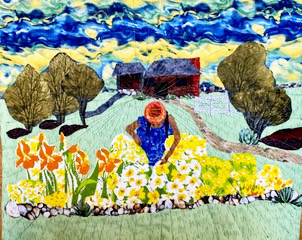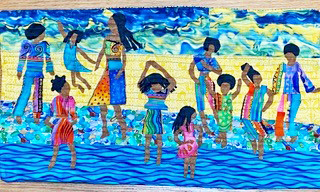 ---
This article is part of the Golden Gazette monthly newsletter which covers a variety of topics and community news concerning older adults and caregivers in Fairfax County. Are you new to the Golden Gazette? Don't miss out on future newsletters! Subscribe to get the electronic or free printed version mailed to you. Have a suggestion for a topic? Share it in an email or call 703-324-GOLD (4653).
---