Article by Mary Jane Dye, Editor, Golden Gazette, Department of Family Services
(Posted 2021 June)

---
I'd never met Herman "Smitty" Smith previously, but when I walked into his barbershop, I gravitated toward the man in the back. With a steady hand he was shaving a customer's beard, and then he looked up.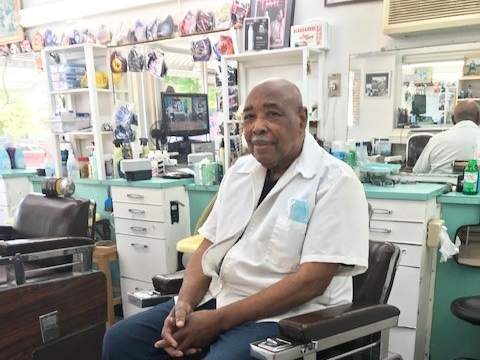 Although he was wearing a mask, his eyes were smiling at me. I asked, "Are you Smitty?" In a teasing voice he answered, "Well, some people call me that." In an instant I knew why he had a steady and loyal following of customers. Not only is he skilled at his craft, Smitty has a knack for putting people at ease.
Smitty, 81, has been cutting hair since 1962. He learned the trade during his military service with the U.S. Navy. Since the Navy mandates that hair must be kept neat, clean, and well groomed, he got plenty of practice, and liked it. He says that after his discharge, it just made sense to continue cutting hair. 
"My father was pleased when I decided to cut hair professionally," he says. With Father's Day coming up, Smitty is reminded of the first time he cut his father's hair. "He was so very proud and supportive of my decision and success at becoming a barber. It meant so much to me when I cut his hair for the first time." According to Smitty, it was his most memorable and validating haircut of his career.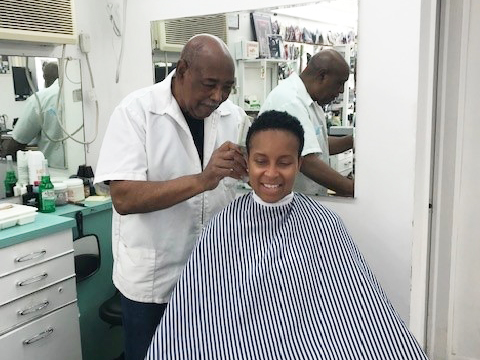 To be successful for so many years, even during the pandemic, Smitty reveals the importance of developing camaraderie with and respect for all clients. "I like talking with my customers, and we have good conversations," he says. Meeting new and unexpected customers from all walks of life makes the job interesting. He has cut the hair of many football players like Charley Taylor, Roy Jefferson, Gary Clarke, Doug Williams, and more. "And I learn something every day," Smitty relays. He also finds it satisfying to make people look and feel good. "They know I really care about them."
Smitty reminisces about the shop's history. "It was built by Dr. Harold Johnson in 1959. He was a Black doctor and professor at Georgetown University." He also says that although the business' heyday was in the 1960s and 1970s, it remains popular. Interestingly, he has found that topics of conversation are not new.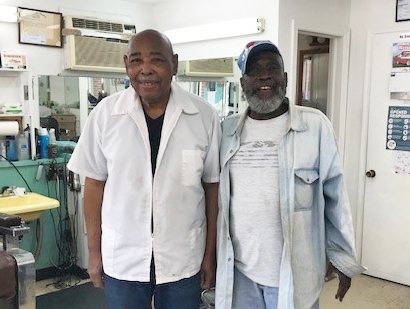 "We have been talking about the same things for decades — politics, family, sports, religion, travel, and civil rights." He adds that the new term, "social justice," is simply a continuation of the struggle for civil rights and has always been a hot topic of discourse, especially for Black men.
According to Smitty, the shop has a notable past with the Black community in Falls Church. "It's a place for people to gather, socialize, and speak freely." Everyone is welcome to his shop, and he likes diversity. "We cut women's hair, too." He has been cutting his wife's hair for many years. "She keeps it short."
While topics of conversation remain unchanging, hairstyles are not.  Smitty notes, "Back then, people mostly asked for short haircuts—Afros, precision designs, and simple trims." Currently, he explains, the predominant styles are fades (all the hair is not buzzed to one length) and shorter haircuts, including balding in some instances! "Some are even returning to the Afro. It all looks good."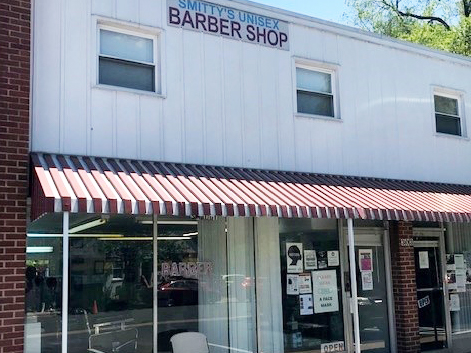 In addition to giving a great haircut, Smitty reveals the secret to his shop's success and perhaps . . . his philosophy of life.
"I treat people fairly and honestly and recognize the importance of others." He also knows that all his barbers contribute to the shop's success.
Last, but not least, he understands the importance of easy and pleasant conversations and acknowledges every customer who walks through the door. "I want my clients to feel validated and special. After all, we are all human."
Community activities are often advertised on the shop's windows. "We even have some smaller activities in the parking lot from time to time," Smitty says. One of his barbers works closely with James Lee Community Center, and when possible, the shop helps them out, too, demonstrating responsible local outreach.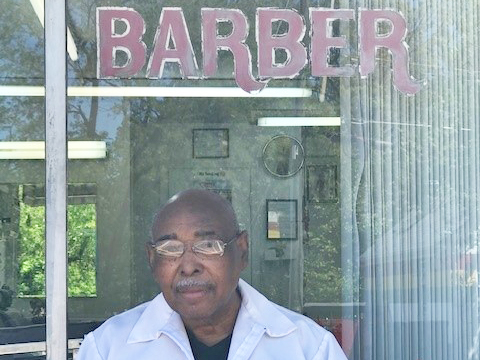 Smitty's shop is an example of how, if something is working, then let it be. The shop attracts older citizens, their children, and grandchildren. Despite the pandemic, a few new customers come in the shop. "Although business slowed during this challenging time, we still managed," says Smitty. "I am blessed to have a loyal following who continue to come, a few for more than 50 years!"
Smitty wants our readers to know his tips for great looking hair. "It's simple," he explains, "Shampoo regularly, comb and style your hair every day, and keep it neatly cut and trimmed."
---
This article is part of the Golden Gazette monthly newsletter which covers a variety of topics and community news concerning older adults and caregivers in Fairfax County. Are you new to the Golden Gazette? Don't miss out on future newsletters! Subscribe to get the electronic or free printed version mailed to you. Have a suggestion for a topic? Share it in an email or call 703-324-GOLD (4653).
---