Article by Mary Jane Dye, Editor, Golden Gazette, Department of Family Services
(Posted 2021 July)

---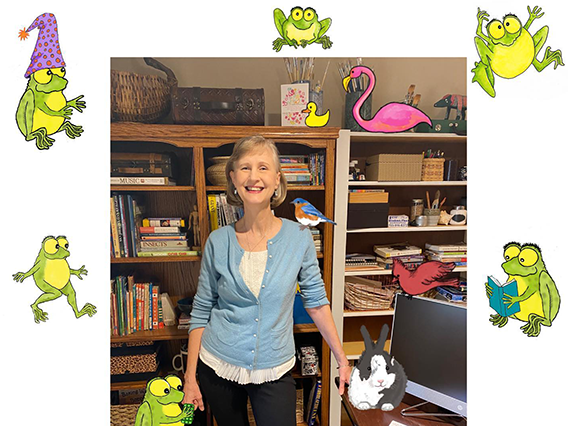 As a preschool teacher, Brenda Klimavicz thrived by creating fun, fictional, characters and art with her students. She often encouraged them to use their imaginations for stories to match these whimsical characters. Her goal was to instill a love of reading. When her preschool closed in the spring due to the pandemic, she needed a new place to share her creative energies.
Brenda used her time and talents to learn digital illustration—images done completely on a computer or hand-drawn images scanned into a computer. Soon she was able to digitally adapt Bobby B. Frog; a character that always appealed to her preschoolers. "You can say that I took a virtual leap with the frog," she chuckles.
Her next challenge was to find a new home for Bobby that would both attract children and provide a launch pad for adventure. A walk in her neighborhood, one Brenda does daily, provided the answer. "I have six Little Free Libraries near my home, and each is unique and fun."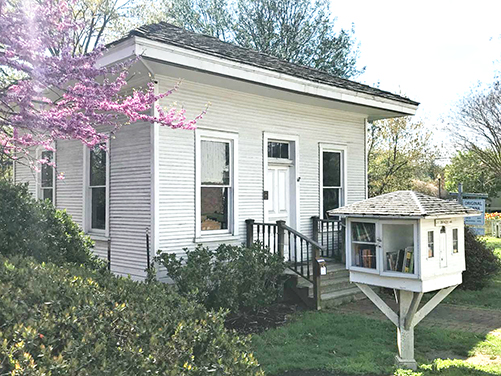 For those who are unfamiliar with them, the Little Free Libraries are small wooden structures people often set up in their front yards where they are easily accessible to the public. They contain a treasure of books, recapturing the old-fashioned concept of "take a book, leave a book." The movement itself was started by the late Todd Bol in 2009.
The small structures can be found around the world, including several locations locally. There is even one at the Fairfax County Sheriff's Department, primarily for children to use during visiting hours at the jail. The libraries' distinct locations inspired Brenda to have Bobby go on entertaining and exciting virtual library tours.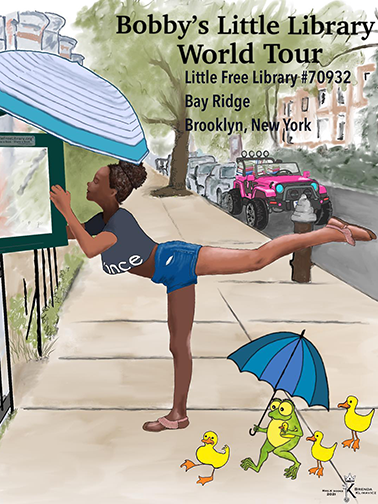 Brenda needed to announce Bobby B. Frog's World Tour, so she sent the word out on Instagram and Facebook. "Owners of Little Libraries from around the world sent photos to me," she says.
Brenda used the photos to create customized illustrations, for each library, that included Bobby. "Sometimes he is driving his jeep, delivering books, or making friends," she says, "but the love of reading and adventure shines through."
In the Little Free Libraries' spirit of "always a gift, never for sale," Brenda gives her artwork to the library steward, the person responsible for that little library. It has been used to make signs, bookmarks, stickers, and other materials promoting the little libraries.
Bobby B. Frog visits brick-and-mortar libraries, too. Last April, he appeared with a local historical society to celebrate reading with the Little Libraries of Vienna. The event included games and prizes, and visits to all 60 Vienna Little Libraries. She says that the tour has been more rewarding than she ever could have imagined. "We have been welcomed into a philanthropic community of people who share a love of reading," Brenda says enthusiastically.
She has also worked with a food pantry. According to Brenda, the manager of the pantry is working hard to destigmatize food insecurity. "Families were making after-dark food runs to the pantry, hiding in shame!" To fill a need she saw here, Brenda donated artwork that was used to make cute magnets, marketing the pantry like any grocery store, making people feel more comfortable "shopping" there.
Brenda plans to return to the preschool classroom this fall. In the meantime, with the help of her husband, she is installing a Little Free Library in her Vienna front yard. "I am very excited about this project!" she declares. 
Another of Brenda's newest adventures is employing her artistic talents to benefit a charity dedicated to women's shelters. "I paint house and pet portraits, and the money goes directly to the charity," she clarifies. 
Looking back over the past year, Brenda says that one never knows what is around the corner. "Something as life-changing as the pandemic gave me the impetus to conceive new ways to use my artistic gifts in the service of others."
---
This article is part of the Golden Gazette monthly newsletter which covers a variety of topics and community news concerning older adults and caregivers in Fairfax County. Are you new to the Golden Gazette? Don't miss out on future newsletters! Subscribe to get the electronic or free printed version mailed to you. Have a suggestion for a topic? Share it in an email or call 703-324-GOLD (4653).
---