Article by Mary Jane Dye, Editor, Golden Gazette, Department of Family Services
(Posted 2021 September)

---
Sandy Hylton thought pickleball was just as silly as its name and nothing to consider seriously. "I couldn't picture myself playing a game with that name," she laughs. Four years later, Sandy is the reigning champion at the Minto U.S. Open Pickleball Championships in the 60-plus age group.
Sandy, a retired Fairfax County Public School teacher, says that it took just one match to embrace the sport, and most importantly, the welcoming group teaching her to play. "I am a social person and like to have fun with friends," she says. "I really wanted to be a part of this group."
Retiring after 31 years as a health and physical education teacher and coach for numerous sports while at Lake Braddock Secondary School, her active routine slowed down. To Sandy, leaving teaching was more of an adjustment than becoming an empty nester 10 years earlier. According to Sandy, her social network dwindled just as her joints began to ache from being an avid tennis player since age 12.
"I played 4.0 USTA tennis in Fairfax County for many years," she says, "so, I still wanted an activity to keep busy, but it had to be a bit easier on my body. I really wanted my transition into retirement to go smoothly."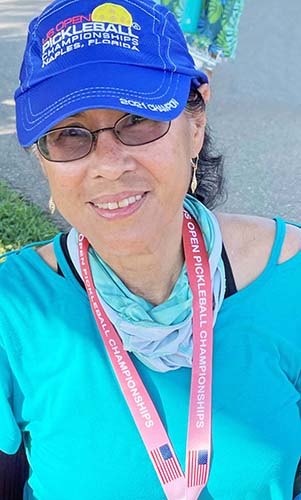 Competition was also important to Sandy. "I am very competitive and sometimes it takes people by surprise," she candidly admits. Athletic by nature, Sandy was a cheerleader at Old Dominion University where she met and married an ODU basketball player named Leon. Unfortunately, basketball took a toll on Leon's knees, and he cannot play pickleball but regularly rides a bike. "While he cannot be my partner on the court, Leon is my biggest fan."
Sandy taught health and physical education in her long career with Fairfax County Public Schools, along with math and high school algebra, at Washington Irving Middle School in Springfield. At Lake Braddock Secondary School in Burke, she coached tennis, track and field, and softball. As a manager of a successful girls travel soccer team that won many state championships, she was a soccer mom and known to all as the "go to" person. "I like to win," she reminded me, with a grin. Sandy and Leon have two daughters, Stacie and Stephanie, who were standout athletes in school. "We instilled the spirit of competition, along with winning with modesty and losing with grace."
It's all about pickleball now, and as she admits, "I am hooked and actually enjoy it more than tennis." She regrets that she missed out on so many years of fun before entering the pickleball arena. "There is lots of laughter on and off the courts and many friendships have been formed."
Laughs aside, Sandy wanted to take her game to a higher level. "There is always something new to learn in this sport," she says. Sandy participated in pickleball camps and clinics led by professional players. Then in 2018, she played in her first tournament at the Mid-Atlantic Open in Arlington. "We won the silver medal in the women's doubles, and I was thrilled," she declares. "I knew that I wanted to continue competing which led ultimately to winning the championship in Florida."
Sandy recommends pickleball to everyone. She says that it helps with stamina, muscle toning and hand-eye coordination. "It is a quick-thinking aerobic game where one needs to stay focused and strategize." Sandy says that the hardest part of the game is remembering the score. "There are three scores the server calls out to start the play," she says. "It's amusing to players and onlookers alike when all four players get confused as to the score and what side of the court to stand when serving."
Although Sandy's travels were few this past year, she always packs her pickleball equipment—a small paddle and plastic ball. Pickleball has grown the past few years, and courts are available nearly everywhere in the U.S. "I like to be prepared," she says with a smile. "On a cross country trip, I played in several places and met wonderful people."
Locally, pickleball is offered at some Fairfax area community centers and Fairfax County Parks and Recreation facilities. Sandy suggests that you start with a beginner class until you are confident with your game. New courts were recently added at the Audrey Moore RECenter in Annandale.
Who Created the Sport Pickleball?
The game was created in 1965 by three dads: Joel Pritchard, Bill Bell, and Barney McCallum. They made up the game for their children who were bored on summer break.
Pikleball's Name is a Mystery
According to the USA Pickleball Association, there are two stories surrounding the silly name. Joan Pritchard, Joel's wife, says that it's a combination of different sports. It reminded her of the pickle boat in crew, where oarsmen were chosen from the leftovers of other boats.
But according to McCallum, the game was named after the Pritchard's dog Pickles, who would chase the ball and run off with it. So, when a name was needed, pickleball seemed like a good choice.
How to Play
This easy to learn game is played year round, uses a plastic whiffle-like ball and flat paddle that is smaller than a tennis racket. The court is similar to badminton with an off-limits area close to the net called, the "kitchen." 
Matches consist of two or four players and last about 20 minutes. Three games are played to 11 points, but you must win by two, and only the server can score.
---
This article is part of the Golden Gazette monthly newsletter which covers a variety of topics and community news concerning older adults and caregivers in Fairfax County. Are you new to the Golden Gazette? Don't miss out on future newsletters! Subscribe to get the electronic or free printed version mailed to you. Have a suggestion for a topic? Share it in an email or call 703-324-GOLD (4653).
---