Article by Leah Freij, Center Nurse Coordinator, Herndon Harbor Adult Day Health Care
(Posted 2022 September)

---
Falls are not a normal part of aging. In older adults, falls can jeopardize an individual's safety and independence. Falls account for 70 percent of accidental deaths in individuals who are age 75 and older.
Risk factors for falls in older adults include:
Increasing age
Use of four or more medications
Cognitive impairment
Sensory deficits
Muscle weakness
Stiff joints
Pain
Fear of falling
History of falls
Presence of two or more chronic illnesses 
Data from the National Council on Aging indicates:
1 out of 4 individuals aged 65 and older falls each year 
Every 11 seconds, an older adult is treated in the emergency room for a fall
Every 19 minutes, an older adult dies from a fall
Falls are the leading cause of fatal injuries in older adults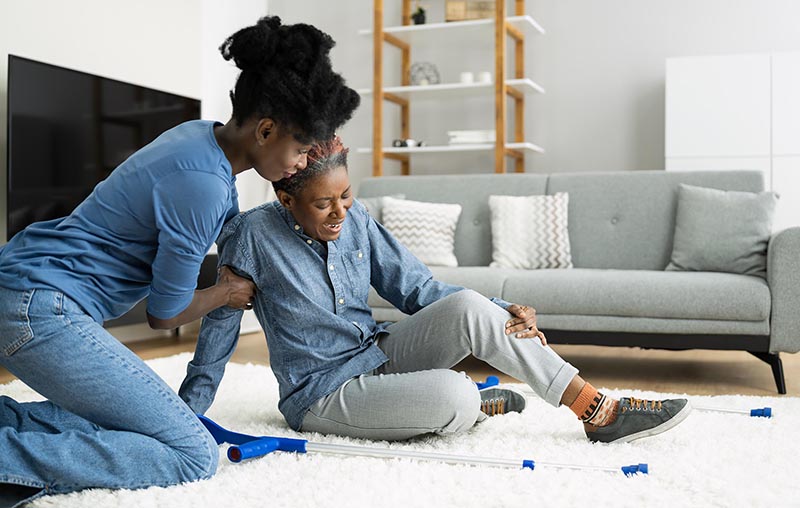 According to the Center for Disease Control and Prevention (CDC), individuals suffering from dementia are eight times more likely to fall compared to individuals without dementia. 
Research shows that less than half of older patients who fall do not tell their physician. For this reason, it is very important that you notify your loved one's primary care physician of a fall, even if there are no injuries. The doctor will assess your loved one to rule out a new medical condition, medication issue, or eyesight problem. The doctor will also look for any injuries and fractures that you might not be aware of, and might recommend physical therapy, or other measures to prevent falls.
Caregivers concerned about falls can take the Falls Risk Quiz by visiting FairfaxCounty.gov and searching for "Falls Risk Quiz." It can help you determine if your loved one is at a greater risk to experience a fall.
Falls Prevention Resources
ElderLink Falls Prevention Programs
Bingo + Gentle Exercises = BINGOCIZE®
Bingocize® is an evidence-based program that combines the game of bingo with falls prevention exercises (seated or standing). Participants play bingo, win prizes, and meet new people while learning about techniques to reduce falls and increase activity. Group meets 2 x week, for 1 hour, for 10 weeks. Conducted virtual or in-person. Conducted by a certified facilitator. 
September 12-November 17, 10:30-11:30 a.m., City of Falls Church Senior Center, 223 Little Falls Street, Falls Church; Free, in-person class meets two times per week on Mondays and Thursdays. Contact Dianne Duke at 703-324-7721 or visit tinyurl.com/Bingocize123 to register.
September 13-November 17, 1-2 p.m., Reston Community Center, 2310 Colts Neck Rd, Reston
Free, in-person class meets two times per week on Tuesdays and Thursdays. Contact Reston Community Center at 703-476-4500.
A Matter of Balance: Managing Concerns About Falls
This award-winning, evidence-based program is designed to reduce the fear of falling and increase activity levels among older adults. Participants learn fall prevention strategies, connect with others, and exercise to strengthen balance, flexibility, and coordination. Group meets 1 x week, for 2 hours for 8 weeks. Conducted virtual or in-person. Conducted by two certified facilitators. Each participant receives a free Matter of Balance workbook.
September 12-October 31, 10 a.m.-noon. Vienna Community Center, 120 Cherry St SE, Vienna. Free. Preregistration required. To register, call Vienna Community Center at 703-255-6360.
Virtual Walk with Ease
This program, created by the Arthritis Foundation, allows individuals to walk at their own pace 3 x week. Group meets weekly to discuss successes, challenges, encourage one another, and learn information to stay healthy. Group meets once a week for 1 hour for 6 weeks. Conducted virtually by a certified facilitator. Each participant receives a free Walk with Ease guidebook.
Fairfax County Senior Centers: SAIL (Stay Active and Independent for Life) Classes
SAIL exercise class is a strength, balance, and fitness program. Performing exercises that improve strength, balance, and fitness can help adults stay active and reduce their chances of falling. The entire curriculum of activities in the SAIL program can help improve strength and balance if done regularly.
SAIL classes are offered at many Fairfax County Senior Centers. You must be a senior center member to participate in their in-person classes. To view senior center event calendars, visit FairfaxCounty.gov, search for "NCS Activity Calendars," and select the name of a senior center. 
Pre-recorded SAIL classes are available at bit.ly/VCAAvideos
Northern Virginia Falls Prevention Alliance (NVFPA)
The NVFPA is dedicated to maximizing independence and improving the quality of life for older adults by reducing falls and fall-related injuries. Visit the NVFPA at NovaFallsPrevention.com for information and events, including special presentations during Falls Prevention Week, September 18-24, 2022.
---
This article is part of the Golden Gazette monthly newsletter which covers a variety of topics and community news concerning older adults and caregivers in Fairfax County. Are you new to the Golden Gazette? Don't miss out on future newsletters! Subscribe to get the electronic or free printed version mailed to you. Have a suggestion for a topic? Share it in an email or call 703-324-GOLD (4653).
---