Article by Gwen Jones, Department of Family Services
(Posted 2022 December)

---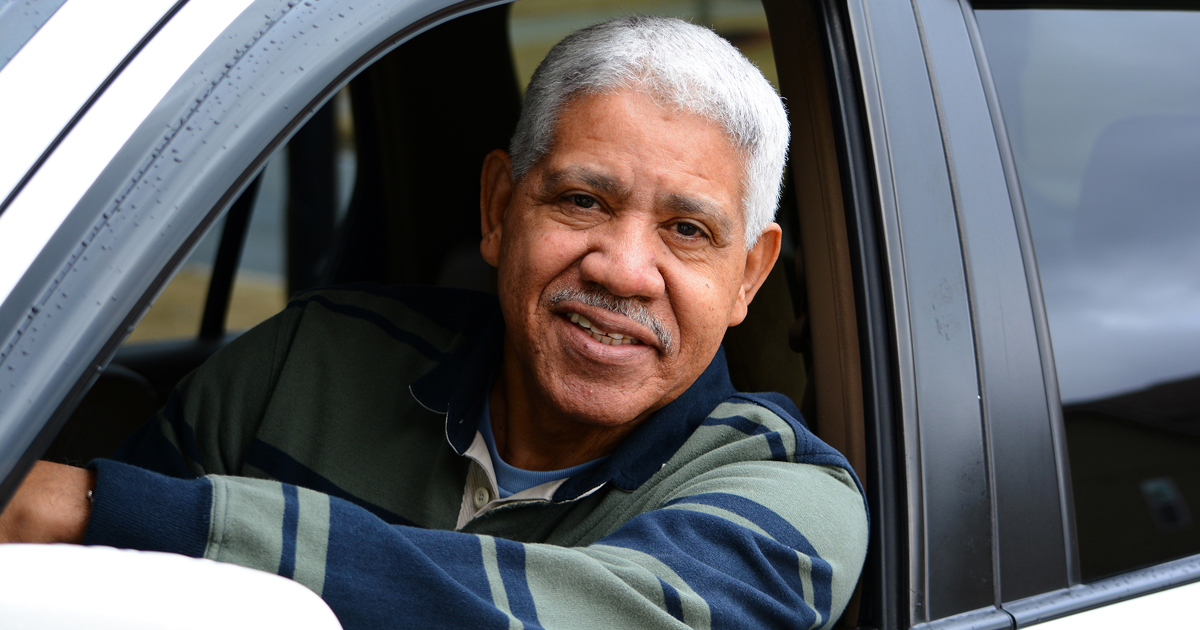 Driving in Fairfax County is challenging no matter your age. Roads are often congested, highway construction is never-ending, and aggressive driving is common. To that already intimidating mix, older adult drivers may also contend with slower reaction times, mobility issues, hearing loss and diminished vision. Making the decision to give up your car keys is difficult, and it may feel like you are giving up your independence. As you weigh the risks and benefits of driving, be aware of new technologies that are available to make driving safer and resources that can help you be a safer driver.
Driving Risks
As we age, our bodies become more fragile and susceptible to injury. Studies have shown that older drivers are less likely to survive severe crashes than any other age group. In 2020, the traffic fatality rate per 100,000 people was highest for the 80-to-84 and 85-and-older age groups, according to a National Highway Traffic Safety Administration (NHTSA) report. Drivers 75 and older are about four times as likely to die as middle-aged drivers when they're involved in a side-impact crash and about three times as likely to die in a frontal crash, according to a study by the Insurance Institute for Highway Safety (IIHS).
One contributing factor is that older adults tend to drive older vehicles that lack advanced safety features. An IIHS study found that as driver age increased, their vehicles were less likely to be equipped with electronic stability control (ESC) and side airbags as standard features. Vehicles without ESC were associated with a 37 percent increase of driver fatality for drivers 70 and over, while vehicles without side airbags doubled the odds of an older driver fatality. 
Why do older drivers drive older, less safe vehicles? One reason is that income is often lower in retirement, putting new vehicles out of reach of many older adults. A survey by the IIHS also found that drivers don't understand the value of the safety features and underestimate the importance of a vehicle having good safety ratings. The IIHS evaluates vehicles on crashworthiness (how well a vehicle protects its occupants in a crash) and crash avoidance and mitigation (technology that can prevent a crash or lessen its severity.) To find out how your vehicle scored, visit iihs.org/ratings. 
Vehicle Safety Features 
Some of the latest safety features that could benefit older adults include:
Automatic Emergency Braking (AEB) – warns the driver or applies the brakes to avoid an impending collision. 
Lane departure prevention – returns the vehicle to its correct path if it veers out of the travel lane. 
Blind spot detection – warns the driver about vehicles that aren't visible in the side or rearview mirrors.
Rearview camera – displays what is behind you, projecting a much larger field than is visible in mirrors or by looking out the back window.
Safety features in development include:
Left turn assist – a camera and other sensors detect oncoming vehicles when the driver signals a left turn and warns the driver if a collision is likely.
Intersection movement assist – allows vehicles to warn drivers of possible collisions with others approaching an intersection. 
Adaptive headlights - turn with the steering to increase the amount of roadway illumination; reduce the glare for other drivers by automatically adjusting between high and low beams.
According to a study from the IIHS, advanced technologies designed to help drivers navigate intersections could address a third of the crashes that cause older driver injuries and fatalities.
Resources for Older Drivers 
Virginia GrandDriver 
Virginia GrandDriver helps older drivers and their caregivers recognize the signs of declining driving skills. It also provides information for healthcare providers and law enforcement officers to assess mature drivers. Other resources include:
Check lists of age-related changes and medications that can affect your driving. 
Options for alternative transportation if you choose not to drive.
Educational events, publications and toolkits.
Safety tips for pedestrians.
Visit their website at granddriver.net for more information.
CarFit
CarFit ensures that older adults fit their vehicles properly for maximum comfort and safety. During 
a CarFit event, trained technicians evaluate participants and their personal vehicles, making adjustments to ensure a good fit. Visit car-fit.org to find a CarFit event near you. For more information, email info@car-fit.org. 
DMV Mature Driver Program
Drivers aged 75 or older must appear in person at a DMV customer service center to renew their driver's license and complete a vision screening. Once issued, the license will generally be valid for five years. You may have your vision screened at DMV or present a report (issued within 90 days) from an ophthalmologist or optometrist.
Mature Operator Safety Courses
A driver safety course can help refresh your driving skills and bring you up to speed on newer traffic laws. Fees for these courses vary. Classes may be available online or in-person, including: 
AAA Roadwise Driver (aaadriverprogram.com/midatlantic/road-wise) – online course designed to help you be a better, safer driver. 
AARP Smart Driver™ Course (aarp.org/auto/driver-safety) – this course teaches proven driving techniques to help keep you and your loved ones safe on the road.
For more information and additional driving courses, visit the DMV website at dmv.virginia.gov/drivers/#mature.asp. 
---
This article is part of the Golden Gazette monthly newsletter which covers a variety of topics and community news concerning older adults and caregivers in Fairfax County. Are you new to the Golden Gazette? Don't miss out on future newsletters! Subscribe to get the electronic or free printed version mailed to you. Have a suggestion for a topic? Share it in an email or call 703-324-GOLD (4653).
---