Article by Mary Jane Dye, Editor, Golden Gazette, Department of Family Services
(Posted 2021 January)
---
This article was intended to celebrate Robert Keifert and his 101st birthday this January. The interview was conducted in November 2020, shortly before he passed away on Nov. 17. Bob's life story is so much more than what is written below, but it still serves as a testimonial of a life well lived and loved.
---
Soon to be 101, veteran Robert Keifert has a big advantage when it comes to understanding life. Not only did he survive World War II, but also a witness to a century of historic events.  
Bob was born in 1920 at the tail end of the Spanish flu epidemic. Remarkably, he is now living through another pandemic—COVID-19. In between these outbreaks—the Great Depression, wars, landing on the moon, Civil Rights Movement, technological and scientific progress—and so much more. 
Bob is a second generation American and had 11 brothers and one sister. He is now the sole survivor. "My parents were German immigrants. We lived on a homestead in Sturgis, South Dakota," he says. 
According to Bob, growing up on a farm during the Great Depression was not easy. "Like so many others, we struggled and had no money," he says. To escape being poor, in 1937, Bob enlisted in the Navy as a sailor, but his dream was to become a pilot. "I took a plane ride and fell in love with flying," says Bob.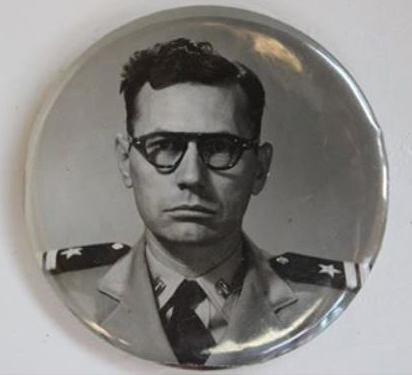 When an opportunity arose to go to mechanics school to work on airplanes, Bob continues, he applied immediately. It was his chance to eventually become a pilot. 
With hard work, his dream came true. After 23 years, he became a military officer known as a Mustang—he went from enlisted rank to Navy Commander as a pilot. 
He says that his most memorable experience during the war was being the personal pilot to a Navy Admiral in the 6th Fleet in Italy. "It was really something," he says. 
During the war, Bob stayed in touch with his family by writing letters. He would send money to his mom in South Dakota and to his sister in Wisconsin. "I had the means to help them, so I did," he says. "I was fulfilling my main reason for enlisting." 
Bob got married when the war was ending. "We lived in Italy and England. It was quite a life," he says. "After the war, I stayed in the service for 10 more years, stationed in Guam. Retiring was bittersweet. We moved back to the States. I finished up my degree at Georgetown University and went into commercial real estate as a broker and investor." 
Bob and his wife had three children and their marriage lasted 55 years. She passed in 2000. His recommendation for leading a good life is to live an honest one. "That's what we did in our married life, and I continue to do at 100 years old."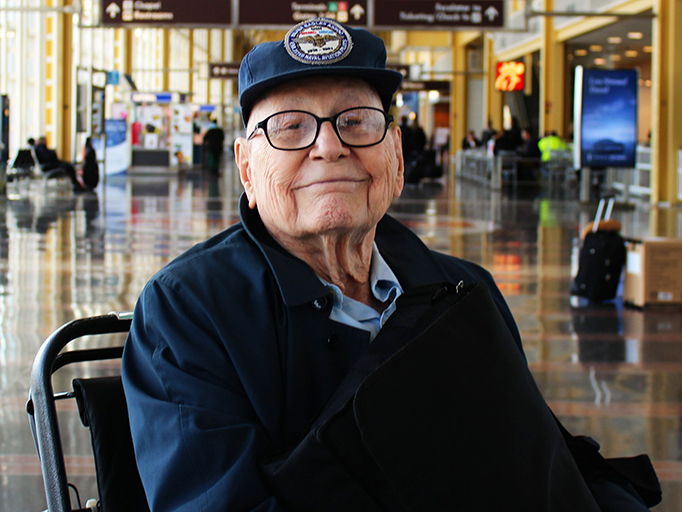 According to Bob, his service and experiences affected how he has lived. He learned that self-discipline, not wasting anything, and keeping it simple are good rules to live by.  He also adds that there are methods to doing things: "Some are better than others. Some it doesn't matter and some it truly does." He believes that brilliant is knowing when it matters and being able to do it in short order.
Bob wants everyone to know that love is determined by how well you take care of someone. "I spent my life taking good care of those I love. It's been a good life. It's paid well."
Special Note of Thanks from His Daughter:
A wonderful place that took care of Bob was the Lincolnia Senior Center. His daughter Peggy says it meant a lot to him, and he was sad when it physically closed due to the pandemic. "He really loved that place, and they even continued to bring him meals up until his heart attack." She fondly remembers that just a year ago the center held a big 100th birthday party for him. "He cried on the way home." 
Thank you for your service and lasting words of wisdom, Robert Keifert. You will never be forgotten.
---
This article is part of the Golden Gazette monthly newsletter which covers a variety of topics and community news concerning older adults and caregivers in Fairfax County. Are you new to the Golden Gazette? Don't miss out on future newsletters! Subscribe to get the electronic or free printed version mailed to you. Have a suggestion for a topic? Share it in an email or call 703-324-GOLD (4653).
---