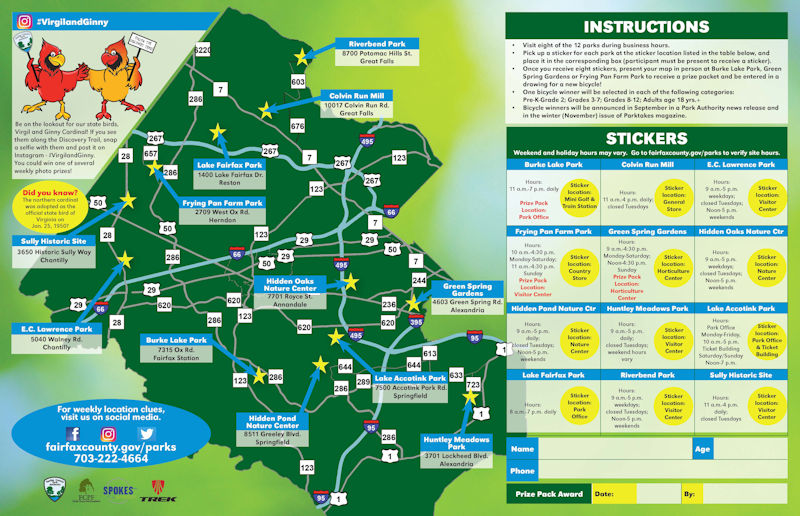 Happy Trails to the Discovery Trail —
Thank you for your interest in the 2018 Discovery Trail Map. This promotion ended on Labor Day. We hope you enjoyed your summer adventures visiting Fairfax County parks!
You'll always find something fun to do in Fairfax County parks, and the Park Authority's Discovery Trail Map is your guide! The journey features 12 distinctive sites that give children and adults the chance to discover each site's unique features. Visit eight or more sites and get a prize package to more summer fun, and be entered in a drawing for one of four bicycles! The prize package valued at $93 includes 1 free admission for mini-golf, a carousel, train, tour boat, pedal boat, camping, wagon ride, RECenters and a boat rental.
About the Discovery Trail Map
If you like animals, you'll go wild for the Fairfax County Park Authority 2018 Discovery Trail Map! This year's free summer activity highlights the rich diversity of wildlife you'll see in Fairfax County parks.
Now in its fifth year, the map encourages children and adults to explore 12 distinctive parks and learn interesting facts about the wildlife that lives in the parks. Discover which bird's wings beat up to 53 times per second, which park serves as the perfect habitat for the great blue heron and which creature could be called a party animal!
Discovery Trail Maps will be available by May 11 at staffed FCPA locations, Fairfax County Public Libraries and Board of Supervisors offices (while supply lasts).  Maps also will be available online at Download Discovery Trail Map during the promotional period, May 26 – Sept. 3, 2018.
Each featured site has a sticker with a unique image that reinforces the educational messages on the map.
Pick up a sticker for each park at the sticker location listed in the table above, and place it in the corresponding box (participant must be present to receive a sticker).
Participants who visit at least eight of the featured sites will receive tickets to more park fun valued at $93 and be entered in a drawing for one of four bicycles donated by Spokes, Etc. through the Fairfax County Park Foundation.
Qualifying maps can be redeemed at Burke Lake Park, Frying Pan Farm Park and Green Spring Gardens. 
Lakefront staff members will date and initial the qualifying maps, record names and phone numbers of recipients on a distribution log, and award the prize packs.  At the same time, the qualifying participant will fill out a ticket to be entered in a drawing for one of four bikes and drop the ticket in the ticket box.
Bike winners will be notified by e-mail and/or phone. Bike winners will be announced publicly in September. For more information, contact the Public Information Office at 703-324-8662.
Another chance to win
Heralding this year's map theme are Virgil and Ginny Cardinal, cutout characters representing our state bird and offering another opportunity for park visitors to win. If you spot them along the trail, snap a selfie with them and post it on Instagram with #VirgilandGinny. Weekly winners will be selected to receive their choice of RECenter or mini-golf guest passes.