Project Description and Background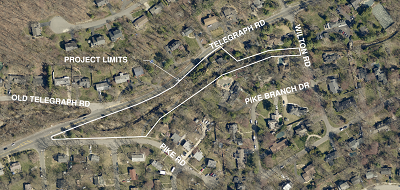 Located on Pike Branch in the Cameron Run watershed between Telegraph Road and Wilton Road in Alexandria, the 1,300-linear-foot stream section has a long history of maintenance concerns.  Prior to 1982, various types of retaining walls were built along this portion of the stream to address severe erosion and flooding issues in the Virginia Hills neighborhood.  Despite repeated stabilization efforts, the stream continued to erode and portions of the retaining walls failed.  Sections of the retaining walls were undercut and other channelized bank areas armored with grouted riprap were eroded or dismantled by erosive stream flows. Current conditions of the stream can be viewed on the Pike Branch at Wilton Road Stream Stabilization Project Story Map.
A recent stream assessment and feasibility study and subsequent site walks identified the following project tasks:
Repair and/or replacement of failing retaining walls along the stream
Installation of in-stream natural channel design measures to improve stream stability and habitat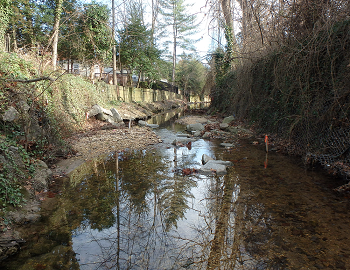 The goals of the project are to:
Provide a safe and sustainable stream valley for the community
Protect property and public utility infrastructure
Create in-stream and riparian habitat for wildlife
Improve water quality through the removal of phosphorus, nitrogen, and total suspended solids
A conceptual design was completed in Dec. 2016 and a community meeting was held on Jan. 31, 2017.  Staff will continue to work with the community throughout the design process.
For additional information, please email the Stormwater Planning Division or call 703-324-5500, TTY 711.
Project Documents