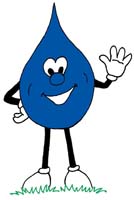 Hi kids! My name is Stormy the Raindrop, and I care about keeping our land and water clean. Our drinking water comes from streams. It's true! Don't worry, our drinking water is cleaned at a treatment plant before it comes into our houses, but remember that all of the animals that live in and near the stream have to drink the water as it is. I need your help to make sure our streams are clean for our animal friends. No matter how old you are, you can help keep our streams beautiful and healthy by keeping your home, school and neighborhood clean.

Litter and Pet Waste Make Our Rivers and Streams Dirty
Prevent litter - Rain and melting snow pick up litter left on our roads and playgrounds and carry it to our streams. This can hurt the fish and animals that live there. That is why trash should be put into a trashcan and never left on the ground. Some items should be recycled.
Pick up after your pets - Pet waste that is not disposed of properly can make our wildlife sick and our streams dirty. Always pick up the pet waste, please. Use a plastic bag and throw the bag and the waste into the trash.
Keep storm drains clear - Storm drains are openings along roadways that allow rain and melting snow to go from the street to our streams. This helps prevent street flooding. Only rain should go down a storm drain. You can help Stormy by marking a storm drain to let your neighbors know that anything that goes into a storm drain goes into the closest stream.
Puppet Show
In this 10-minute video, Stormy meets a salamander, a turtle, a fish and a variety of other animals that live in the Chesapeake Bay watershed as he travels from a local stream to the Atlantic Ocean. The animals tell us a little about where they live and how environmental pollution impacts their lives. The story also explores connections between local water bodies and the Chesapeake Bay. This program is based on the "Stormy the Raindrop's Watershed Journey" activity book.
Activity Books
Download your own copies of Stormy the Raindrop activity books. In "The Adventures of Stormy the Raindrop," find out what happens to Stormy after he drops from a storm cloud and goes into a storm drain. In "Stormy the Raindrop's Watershed Journey," follow Stormy from a local spring through the Chesapeake Bay watershed all the way down to the Atlantic Ocean. Each book includes activities and pages to color.
Around the County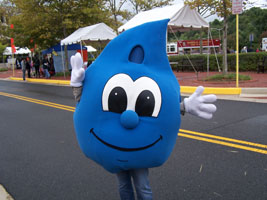 You can meet Stormy the Raindrop in person. Stormy enjoys meeting new people and pointing out the many ways we can all help to protect streams in Fairfax County. You may spot Stormy at a county fair or at a public library.