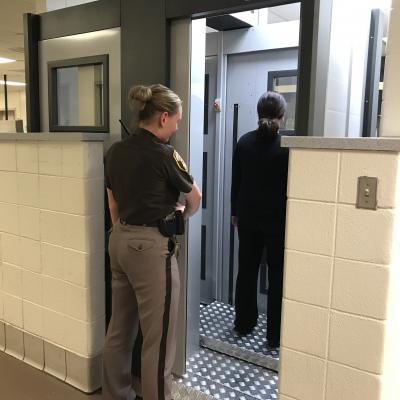 A new security measure is up and running at the Fairfax County Adult Detention Center (ADC) to make the facility safer for staff and inmates. In just three months of use, a full body scanner in the booking area is already preventing arrestees from smuggling drugs and other prohibited items into the ADC, no matter where in the body the items are concealed. In four instances, the scanner has revealed dangerous contraband.
An arrestee is searched at least three times before reaching the scanner – at the time of arrest, at the entrance to the ADC, and as part of the booking process. Before the arrestee, now an inmate, is placed in the general holding cell, he or she must go through the body scanner.
Major JJ Snyder is the ADC commander. "Pat searches only catch so much of the contraband that may come into a secure facility. The scanner will find drugs, paraphernalia and even weapons that a person might hide on their person or in a body cavity," said Snyder.
The CONPASS whole body imaging system uses an extremely low dose of X-rays to provide a non-invasive but detailed look at the entire body. Exposure is automatically tracked to maintain compliance with all applicable state and federal safety regulations.
"With the growing opioid epidemic, we are especially concerned with preventing overdoses and drug distribution in the jail," said Snyder. "Often individuals stricken with addiction know ahead of time when they are going to jail because they are waiting to be sentenced or expecting their bond to be revoked. Consequently, they have ample time to figure out how to feed their addiction or use drugs for profit while they are incarcerated. Individuals with substance abuse disorders can be very creative and manipulative."
The presence of the scanner may eventually serve as a deterrent. "As word gets out, we hope to see fewer instances of smuggled contraband," said Snyder.