"I didn't know what to expect," said an inmate named Joseph after visiting the inmate resource fair in the Adult Detention Center. "It turned out to be a very pleasant and helpful experience."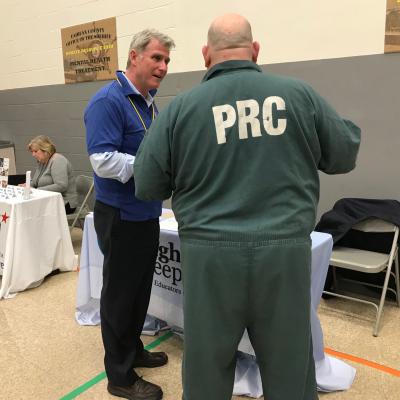 Over 100 inmates, male and female, attended the fair in small groups throughout the day. Twenty-five vendors represented employment opportunities, supportive housing, probation, health care, addiction services and much more.
Joseph has been incarcerated since January and has another three months to serve. He considers himself fortunate because his employer has promised to take him back once he is released. However, his employer does not offer health insurance. At the resource fair, Joseph talked with a representative from Neighbor's Keeper, a local nonprofit that will help him find affordable healthcare options. He also spoke with OAR Fairfax about emergency food and transportation assistance and DMV Connect about getting his driver's license reissued.
"Every inmate has different needs," Joseph said. "Some will have no place to go, no job, no house. They should come to this fair. There is a little bit of everything. I'm glad I came."
Sheriff Stacey Kincaid launched the first inmate resource fair in 2014 to build on her re-entry initiatives. "The list of life skills, education and self-awareness programs we offer inmates during their incarceration continues to grow," Kincaid said. "Learning how to control anger, increase empathy and be a better parent are important components of rehabilitation. So are learning to read and write, manage a budget, prepare a resume and search for a job. Our resource fairs go a step further by connecting inmates with our government and nonprofit partners who will help them make the safest, healthiest and most productive transition from jail to community."
Since 2014, the Sheriff's Office has hosted seven inmate resource fairs in collaboration with the Fairfax Re-entry Council. For information on how your agency or organization can support future fairs, please contact the Sheriff's inmate programs office.