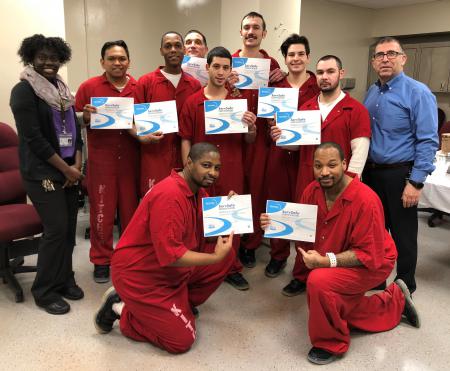 January 8, 2019
The Fairfax County Sheriff's Office oversees a large food service operation in the Adult Detention Center (ADC). A 54-member inmate kitchen crew, divided into two shifts, works with the on-site food service provider, Aramark. The kitchen crews prepare and distribute three meals per day for all inmates in the ADC. With an average daily inmate population of nearly 1,000, that amounts to over one million meals per year.
Two to four times per year, eligible inmates on the kitchen crew can sign up for a four-week ServSafe class and then take the Food Service Manager Certification exam. ServSafe is an education program created by the National Restaurant Association for those working in food service, specifically managers and other leaders. Topics include foodborne illnesses, how to prevent them and how to train employees about the latest food safety issues.
"Working in the kitchen is a valuable learning opportunity for inmates and increases their employability once they are released," said Sheriff Stacey Kincaid. "Earning ServSafe certification opens the door even further to potential management opportunities."
On January 4, 2019, nine inmates on the kitchen crew celebrated passing the exam and earning their certification. Tony Motamedi, the Aramark supervisor, said the minimum score to pass the exam is 75 out of 100. "Our graduates all scored over 90 and one got a 98," he said. "We have never seen scores this high. I am very proud of how hard they studied to achieve this certification."
With his certificate proudly in hand, inmate Harold said he has worked in the kitchen for four months. "I am 40 years old and never had a job. I've sold drugs my whole life. I appreciate the opportunity the Sheriff gave me to work in the kitchen and get this certification. It's given me confidence. I feel like if I can do this job, I can do any job. If you don't think that you can do something, then you'll never really try."
For information about other inmate programs, please visit www.fairfaxcounty.gov/sheriff/adult-detention-center-inmate-reentry-programs.