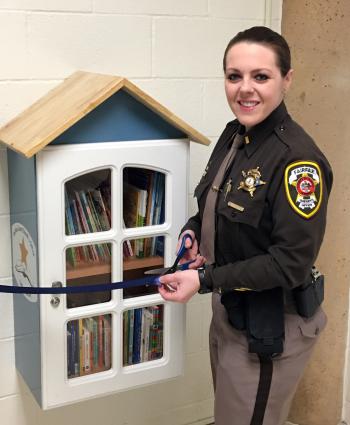 For children coming to the Adult Detention Center (ADC) to visit a family member, the waiting is now a little bit easier. The Fairfax County Sheriff's Office launched a "Little Library" in the ADC, geared toward children of all ages. Children who take a book to read while they wait can choose to put it back on the shelf or take it home with them. The Little Library structure is secured to a wall and set at a comfortable height for children to access. The library is open on Saturdays and Sundays during inmate visiting hours.
Sheriff Stacey Kincaid is a strong advocate for libraries and an active participant in child-focused reading programs. "Giving children an opportunity to read and learn in the jail lobby not only distracts them in the short-term from a difficult environment, but also helps steer them on a positive path for the future," Kincaid said. "My deputies have reported children 'jumping for joy' when they see the library and are encouraged to choose their own book to read."
2nd Lieutenant Emily Fary, the Sheriff's special projects coordinator, designed the library and oversees the collection of books. "Before we even launched the Little Library, we had 866 books donated by community groups. On the first day, we stocked the shelves with 106 books, and I restock on a weekly basis. I could not be more thankful for the support this project has received," said Fary. "The Sheriff's Office is committed to connecting to the community we serve, and it has been incredibly rewarding to do so one book at a time."
Because of the continued outpouring of support, the Sheriff's Office shares many of the donated books with its community partners, including Shelter House and the Northern Virginia Therapeutic Riding Program for at-risk youth. "Sharing and reading books together is one way we can bridge the gap between law enforcement and vulnerable youth," said Kincaid.
By the end of January 2018, the Sheriff's Office had received over 2,000 donated books. Major contributors to the ADC Little Library include: Fairfax County Public Libraries, various Friends of the Library groups and the Little River United Church of Christ in Annandale, VA.
If you or your group is interested in donating new or gently used children's books to the ADC Little Library, please contact 2nd Lt. Emily Fary at 703-246-4495 or email sheriff@fairfaxcounty.gov and put Little Library in the subject line.