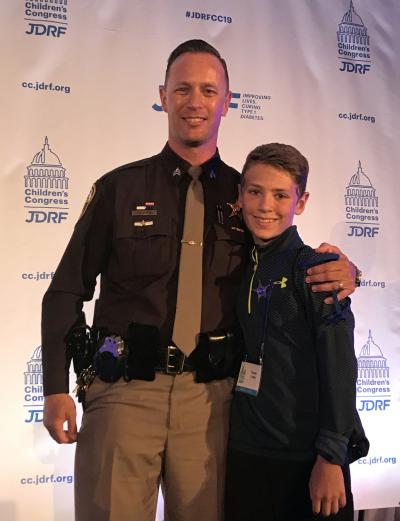 July 24, 2019
Fairfax County Deputy Sheriff Chris Loftis was diagnosed with type 1 diabetes (T1D) in 1992 on his 15th birthday. Before his diagnosis, he dreamt of becoming a marine biologist. At that time, T1D made it impossible to become scuba certified, an important skill for marine biology. His dreams changed, but he never gave up on the things that he loved to do, including playing football at the high school, college and minor league professional levels. He put himself in a position to be successful by maintaining a strict diet and exercise routine.
Chris decided early after his diagnosis with T1D that it was not going to define him or close any doors of opportunity. "I believe the leadership and training through football helped shape me into who I am today," said Chris. "Football gave me the confidence to manage the hard times living with diabetes and showed me that anything is possible as long as I work hard for it."
After college, Chris pursued a career in law enforcement. He explained, "I remember telling the Sheriff's Office background investigator, I'm going to be up front; I'm a diabetic. I don't want to waste your time if diabetes is an automatic disqualifier. The investigator told me all I needed was a class A physical."
That is all Chris needed to hear. He was determined not to let that physical examination stand in the way of his future. The Sheriff's Office hired Chris in 2005, and he currently serves as a Public Information Officer in the rank of Sergeant.
Chris never allowed T1D to limit his choices during the past 14 years. He has been recognized with multiple meritorious action awards and a bronze medal of valor. He is the assistant commander of the Sheriff's Office Crisis Negotiations Team and a supervisor on the Honor Guard team.
Over 27 years after his diagnosis, Chris continues to meet challenges head-on. "I want to make myself uncomfortable, so I can learn to become comfortable in stressful situations. Managing the day-to-day stress from diabetes is as important cognitively as it is physically," he said.
JDRF is the leading global organization funding T1D research. Every two years, more than 160 children living with T1D gather in Washington, D.C., to meet face-to-face with some of the top decision-makers in the U.S. government. The children, ages 4 to 17, represent all 50 states and the District of Columbia. The delegates in JDRF's Children's Congress enjoy a once-in-a-lifetime opportunity to help members of Congress understand what life with T1D is like and why research to fund life-changing therapies is so critical.
Chris was asked to be a speaker at this year's Children's Congress HOME Room (Healthy Lifestyle, Opportunity, Motivation, Empowerment). The event is an opportunity to hear from successful individuals in all walks of life with T1D who have demonstrated that having the disease did not hold them back from accomplishing their goals.
Among the 12 speakers were a rocket scientist, monster truck driver and professional golfer. "The other speakers and I are role models for children with T1D," said Chris. "As former NFL wide receiver Isaiah Stanback said to all of us, 'this game, we cannot be satisfied with progress. We must win.'"
Chris found the event empowering and rejuvenating. "I had never spoken about my diagnosis in a group setting," he said. "It was kind of liberating for me. I realized that I need to do more and become more of an advocate, not just for one day but year round. For these kids, seeing me in my deputy sheriff uniform gave them new hope to follow career paths that they never thought were possible."