November 13, 2020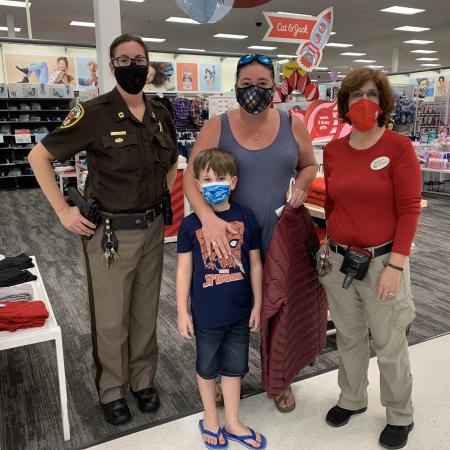 Shopping FOR children instead of WITH children was the order of the day for the 29th annual Shop with the Sheriff event sponsored by the Fairfax County Sheriff's Office. Historically, the agency has taken about 40 children from area homeless shelters on a back-to-school shopping trip at the Target store in Burke, Virginia.
"To reduce the potential for exposing children and their families to COVID-19, we held a low key event for our staff to shop at Target based on lists provided by the shelters," explained Captain Jaime Popik, coordinator of the event. "For each child we know their sizes for pants, shirts and undergarments and also their favorite colors. We also asked that each child name a fun item they would like to have." Those choices ranged from nail polish, crafts and books to soccer balls and table-top games.
Oak View Elementary School first grader Connor McGowan and his mom Christin learned about Shop with the Sheriff ahead of time from a Target employee. "Instead of 'I want, I want, I want,'" said Christin, "this is about helping others in need. I teach Connor that we need to think about others before we think about ourselves." Connor and Christin purchased a winter coat to give to a girl at a shelter. What was Connor's favorite part of the day? "Everything!" he said.
Children benefitting from Shop with the Sheriff reside at the Katherine K. Hanley, Patrick Henry, Artemis House and Next Steps family shelters. Popik will drop the labeled shopping bags at the shelter offices so their respective staff can handle the distribution.
Capitol Restaurant Group, which operates over 40 Paisano's Pizza locations, is a long-time partner of the Sheriff's Office, providing food and financial support for numerous events that benefit children in the community. The Virginia-based business donated $2,500 to help support this year's Shop with the Sheriff event.
For more information, please email the Sheriff's Office.