March 15, 2019
"In the Oracle Community Partnership, we focus on programs that support kids in our local community," said Gail Kolb, the Building Site Manager for Oracle in Reston, Virginia. "We really appreciate the work the Sheriff's Office does and look forward to partnering on Shop with the Sheriff and a book drive for the Little Library."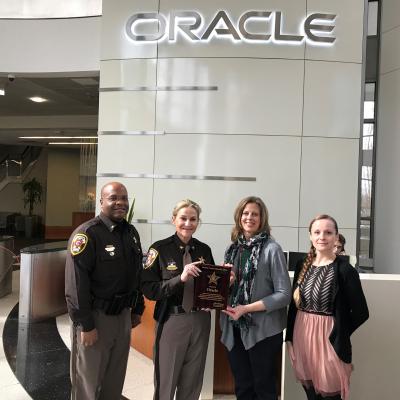 For the fifth consecutive year, Gail Kolb presented Fairfax County Sheriff Stacey Kincaid with an Oracle check for $3,000 to support child-focused programs.
Shop with the Sheriff is an annual event in which Sheriff Kincaid and her deputies take about 40 children who are homeless on a back-to-school shopping trip at the Target store in Burke, Virginia. "Shop with the Sheriff is an opportunity for us to engage with children in a fun environment," said Kincaid. "We hope that shopping for new outfits and shoes gives them a sense of hope and pride. Every kid needs to feel good about themselves to succeed. Oracle's donation will help us make this summer's shopping trip a huge success."
The Little Library, geared toward children of all ages, is in the lobby of the Adult Detention Center. For children who come to visit a family member, they can take a book to read while they wait. They can choose to re-shelve the book or take it home with them. "Giving children an opportunity to read and learn distracts them in the short-term from a difficult environment, but also helps steer them on a positive path for the future," Kincaid said.
Oracle will hold its Little Library book drive this spring at the Reston office.