May 9, 2023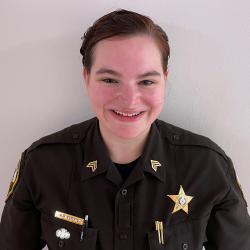 PFC Kathleen Farris was recently promoted to Sergeant and assigned to an overnight squad in the Adult Detention Center.
Sgt. Farris graduated from high school a year early and attended Olivet Nazarene University in Illinois, the 4th generation of her family to go there. She majored in political science and spent one year abroad at Oxford University in Oxfordshire, England, studying political history. During college, she worked as a librarian.
After college graduation, Farris worked for three years at the Prince William County Adult Detention Center and later applied to the Fairfax County Sheriff's Office.
Earning the rank of sergeant in only five years after graduating from the Criminal Justice Academy is a point of pride. She attributes her success to having worked overtime in every area of the agency and taking every class offered to her. "I love to learn," Farris says, "There is always more that you can do. You just have to put yourself out there to do it."
While employed with the Sheriff's Office, she earned her master's degree in library and information science with a certification in archival studies from Louisiana State University. In 20 years or more from now, when she retires from the Sheriff's Office, she plans to be an archivist for either a museum or the Library of Congress.
Farris is the only woman on the Sheriff's Emergency Response Team. SERT is comprised of tactically trained deputies, who are specially trained and equipped to respond and handle difficult incidents beyond the scope of normal operations. "I worked extremely hard for this, and I am honored to be a part of the team."
Farris is also trained and certified in safety seat inspections and is a member of the Child ID team. She would love to learn more about civil process and inmate classification and looks forward to future assignments in those areas.