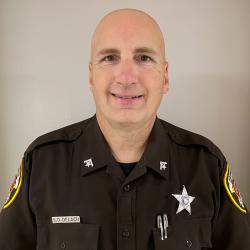 Private First Class Sean Delach recently was promoted to the rank of Master Deputy Sheriff, which is a pay proficiency upgrade. He has been with the Sheriff's for 20 years.
"Before coming to the Fairfax County Sheriff's Office, I was working three jobs at once trying to make ends meet financially," says MDS Delach. "I was loading and driving for UPS, delivering for a kitchen cabinet company and driving a truck for a food delivery company. I learned about openings at the Sheriff's Office, applied and was hired."
Although Delach started working part-time in the Juvenile and Domestic Relations District Court, he has spent most of his full-time career in the Confinement Division, assigned to an Adult Detention Center (ADC) squad for 15 years and now as an ADC property officer for the past four years.
Throughout his career, he has taken on several temporary assignments, including six months in the Transportation Unit. He chose to accept every opportunity for overtime so he could learn about different areas of the agency. "I have always wanted to expand my knowledge and meet new challenges," he says.
He enjoys working in the property room. "A lot happens behind the scenes that most people don't see. We have a really strong work ethic here and have earned the trust of our supervisors and Command Staff. I learned years ago that if we are fair, firm and consistent, we will earn the respect of everyone."
Delach grew up in Fairfax County and studied business and marketing at Wichita State University. "My mom was against my being in law enforcement, but I thought it would be cool to serve the community in which I was born and raised."
In his spare time, Delach remains very active in his community. "Over the years, I have taken part in numerous outreach and mission trips and am blessed to have shared these experiences with my family." At his church, he serves as an usher and assists with security whenever he can. He has chaperoned and coached his children, including his son's high school mountain biking team. He also helps his wife with her business.
"I thank and owe the Sheriff's Office for their dedication to families," he says. "Faith, family and friends are what guide my life."