Article by Mary Jane Dye, Editor, Golden Gazette, Department of Family Services
(Posted 2021 April)

---
No matter your age, you can impact the community through opening your heart and home.
For Liz Murphy and her husband Mark Heinitz becoming foster parents was fulfilling and life changing. Loving and helping children in need also cultivated understanding and compassion in their own two young daughters. 
As Liz explains, serendipity was at play when she sat next to a mom at her neighborhood pool. "We were just chatting when she told me that she was a foster parent," says Liz. This mom also told her about the Fairfax County Foster Care and Adoption Program.
Fostering a child was something Liz and her husband had already discussed. He had a childhood friend whose family fostered many children while raising their own. "It really made an impression on my husband, and he always thought fostering may be in his future," disclosed Liz.
She decided to learn more about the Fairfax County Foster Parent Association by attending a meeting. "I was immediately impressed by how this network of parents supported each other," she explains. She also noted that it was not just younger people who were interested in fostering, and she was surprised to learn about different types of fostering. 
The Murphy's experience as foster parents spanned five years with all types of fostering: emergency care, respite care, and longer-term care. Ultimately, they settled on longer-term care so that their daughters and foster child could establish a bond with each other. "We cared for a total of six children representing five different families," says Liz, enthusiastically, and "we are lucky to maintain contact with the children from one of these families."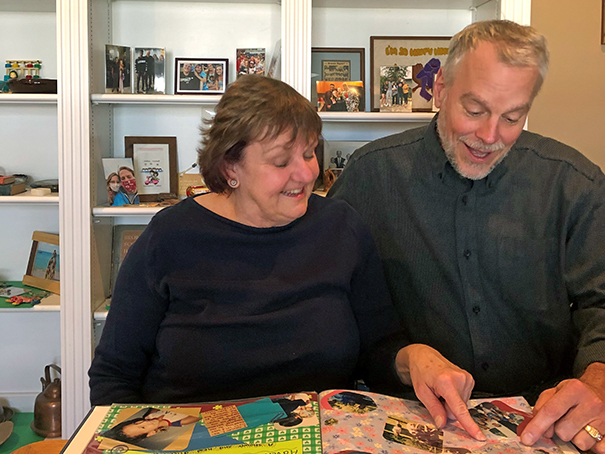 Looking back, Liz realizes how much their family grew from the experience.
"We all learned a lot about how poverty, unmet mental health problems and fractured family relationships can contribute to situations where parents are unable to care for their children," she says.
She recalls that their daughters asked tough questions about why their foster brother or sister could not live with their own mom and dad, how come they could only see their parents on certain days, and why did they seem sad and mad? "Unfortunately," she sighed, "there were times when we could not provide answers and times when we, too, wondered how things would work out." 
Liz is now 64. She says that if she and her husband were to consider fostering at this stage of life, they would help children who are in their teens or older teens that are about to leave the foster care system because they are aging out.
According to Liz, many of these teens have managed to complete high school, get jobs, and/or start college. They do not have a family safety net and could use a caring adult to mentor them. "The level of support a senior can provide may vary based on the person's resources and the level of involvement they want to have," says Liz, "but, it's worth it."
Liz and Mark regularly communicate with two of the children who lived with them. When recollecting the children with whom they have lost touch, Liz says, "We pray that the love we shared with them has helped them navigate their lives today."
Liz is currently volunteering for GrandInvolve—a nonprofit that helps children from Title 1 schools succeed academically. "I knew that I would continue to do something to help children after leaving the foster care program," she says, and after learning about GrandInvolve many years later, she decided to join GrandInvolve's efforts. 
Liz had learned a lot about the school system and its programs centered around helping children at risk. GrandInvolve was a perfect way to share her knowledge. "I am keenly aware of how difficult it is for any parent, especially a single parent, to work, care for their children, attend school functions and special sessions like Individualized Education Plan meetings," Liz says sympathetically. She also knows that succeeding in school—especially during the early formative years—is vital. 
There are many ways to support children in need and the Fairfax County Foster Care and Adoption Program. Find volunteer opportunities online. For information about GrandInvolve, go to their website.
---
This article is part of the Golden Gazette monthly newsletter which covers a variety of topics and community news concerning older adults and caregivers in Fairfax County. Are you new to the Golden Gazette? Don't miss out on future newsletters! Subscribe to get the electronic or free printed version mailed to you. Have a suggestion for a topic? Share it in an email or call 703-324-GOLD (4653).
---