Article by by Maria Loh, Nutritionist, Area Agency on Aging
(Posted 2021 January)
---
The new year is a great time to implement some easy changes to your regular mealtime routines.
Here are five tips that may help boost your health and feelings of well-being in 2021:
1. Stay hydrated.
Strive to consume at least eight glasses of water or non-caffeinated, non-alcoholic, and unsweetened beverages each day. As we age, our sense of thirst diminishes, so we may need to make a conscious effort to consume the fluid we need.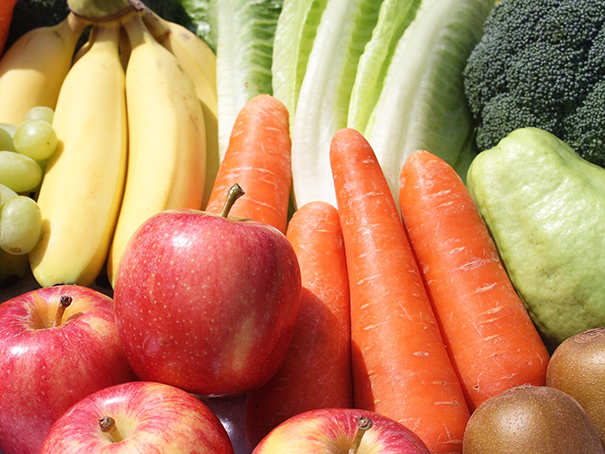 2. Fill up on fresh fruits and vegetables.
MyPlate recommends that half of our plates should be comprised of fruits and vegetables (without heavy dips and sauces!).
Make your plates as colorful as possible with an array of fruits and vegetables. You will reap health benefits from the various phytochemicals and flavonoids.
Try a new fruit or vegetable each month. Most grocery stores carry interesting fruits and vegetables such as Dragon Fruit, Broccoflower, Kohlrabi, Rambutan, and  Jicama. If you can't get out to the store due to the pandemic, Fairfax County has a volunteer Neighbor 2 Neighbor Grocery Shopping and Pharmacy Pick-Up Service. 
3. Enjoy plant-based proteins often.
Try frequently replacing the meat and poultry in your diet with healthy beans, nuts or seeds as a main dish or part of a meal.
4. Choose foods and beverages that are low in sodium, saturated fat and added sugars.
Choosing foods lower in fat, sodium and added sugars can help improve health and reduce the risk of chronic conditions like hypertension, heart disease and diabetes.
5. Connect with others during mealtime.
While the pandemic has made it difficult to join friends and extended family for in-person gatherings, you can still gather virtually! Enjoy meals with others at the  weekday Lunch Bunch, through Fairfax County's Virtual Center for Active Adults.
If virtual visits are not your preference, you can still call a friend or family member during mealtimes and eat "together" while chatting on speaker phone.
It is important to implement these dietary changes gradually. Sometimes, if we try to change everything at once, it can become overwhelming and we can get discouraged and give up.
---
This article is part of the Golden Gazette monthly newsletter which covers a variety of topics and community news concerning older adults and caregivers in Fairfax County. Are you new to the Golden Gazette? Don't miss out on future newsletters! Subscribe to get the electronic or free printed version mailed to you. Have a suggestion for a topic? Share it in an email or call 703-324-GOLD (4653).
---