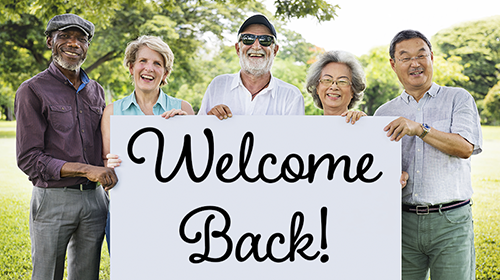 NCS Senior Centers will re-open to the public on Tuesday, September 7. Staff and instructor-led programs will also resume. Participants are required to sign a liability waiver in order to visit one of the centers. If you plan to visit a senior center, please note the following: 
Masks MUST be worn indoors except when you are actively eating or drinking. 
Class sizes will be reduced to comply with social distancing recommendations made by the Fairfax County Health Department. 
As we work to rebuild our workforce, we may not offer all the classes available before the pandemic. 
Classes may be modified from previous formats to comply with Fairfax County Health Department recommendations. 
Class registration may be different depending on location to accommodate as many participants as possible.
Centers may be using a lottery system to fill classes if class size exceeds Fairfax County Health Department recommendations. All persons who are members of a Fairfax County Senior Center have an equal opportunity to be in a class.
If feasible, an alternating schedule may be used to accommodate as many interested members as possible. This will depend on the room size, the number of applicants, the availability of an instructor and the limits the Fairfax County Health Department sets.
We ask for your patience during this time of uncertainty and transition. Please be assured that our number one priority is the health and safety of our Senior Center members, instructors, staff, and volunteers. 
Frequently Asked Questions