Community members are invited to Providence Community Center on Monday, June 26, 4-6 p.m. for the unveiling a of the new Parking Lot Playground Mural.
Providence Community Center, located at 3001 Vaden Dr. in Fairfax, wanted to expand outdoor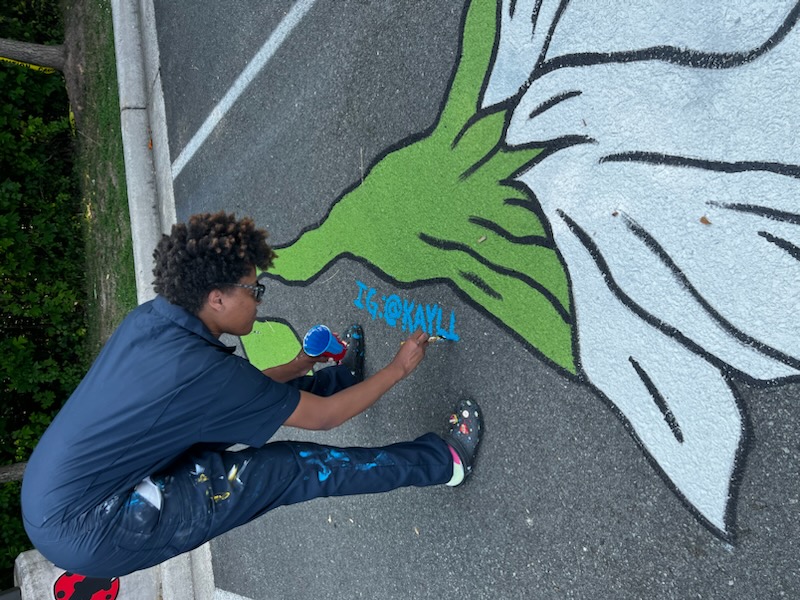 programming for play and fitness. However, there was limited exterior space to install a playground, so NCS began searching for an "art park" mural concept to support the center's sense of community and engagement, and inspire creativity and wonder through play.
The project transforms a portion of the parking lot into a colorful work of art for the community to enjoy in the summer months. It is the first of its kind at a Fairfax County NCS Center.
"We are proud to open such a unique space for the community to enjoy," said NCS Division Director Chris Scales. "This space will bring people together in a colorful, creative and interactive outdoor location."
NCS worked with Cary Michael Robinson, founder of Artbae and the Artbae Foundation, Inc., an arts, entertainment and education-based brand with a passion for advocacy; muralist Kendra "Kay" Lee; and NCS staffer LaShari Celistan to bring the vision to reality.
The event will feature games and activities for the whole family, as well as snacks, face painting and more. Providence Supervisor Dalia Palchik and NCS officials will be on hand for a ribbon-cutting and to celebrate the mural. In case of rain, the unveiling will be on Friday, June 30 at 4 p.m.
Providence Community Center will also soon be renamed in honor of former Providence Supervisor Jim Scott. Voting is open through Monday, June 26. There are several renaming options. Cast your vote online or vote at the mural unveiling. 
Contact Information
NCSCommunications@fairfaxcounty.gov