Fairfax County's Adult Day Health Care (ADHC) received high marks and words of praise from caregivers in a recent survey conducted by the department.
Seventy-eight percent of respondents told ADHC they are "very satisfied" with the care their loved one receives at ADHC. Most respondents said their family member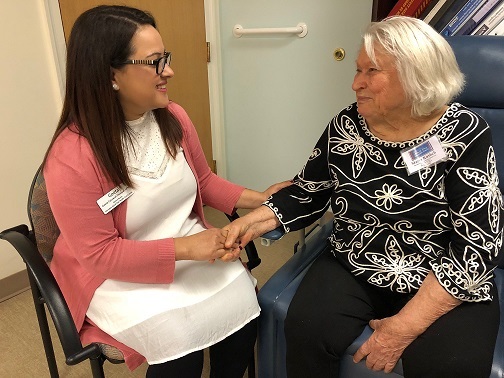 has been able to remain at home in the community as a result of attending ADHC. A majority also said ADHC has helped their loved one's mood and behavior, and caregivers themselves have benefitted from their family member's attendance.
The Fairfax County Department of Neighborhood and Community Services operates four ADHC centers: Herndon Harbor, Lewinsville, Lincolnia and Mount Vernon. ADHC enables adults with dementia due to Alzheimer's, Parkinson's or a vascular issue, as well as those who have physical impairments or intellectual disabilities, to live their best life — at home, with their family. The skilled and experienced staff meet the medical needs of participants and create programs to boost memory, socialization and movement.
ADHC Program Manager Marjorie Burris says the program is a good option for families because of its 6:1 ratio, licensed nursing staff and sliding-fee scale. She says it has proven to be a "win-win" for families – not only for the client but also for the family member in need of respite.
"When trying to be 'the perfect caregiver,' it can impact your ability to make informed decisions about the best care for your loved one," she said. "While at-home care is a nice option to think about, it can limit your loved one's ability to learn and improve their cognitive senses.
"ADHC offers both a safe and healthy environment for people with dementia. By admitting your loved one into an Adult Day Health Care center, you're not just dropping him/her off for someone else to handle; you're allowing him/her to socialize with others and preserve independence. Adult Day prides itself on its diverse selection of activities and health services to give caregivers and their loved ones as much comfort as possible."
The survey, conducted in spring 2023, received 33 responses. Caregivers' answers to the question "What are we doing well?" included:
Adding meaning and challenges to her daily life.
Taking care of my wife and giving her a place to belong.
Providing a mentally stimulating environment.
Just being there for us means a lot.
The staff takes great care of her while she is there.
The four locations are as follows. To learn more about ADHC and inquire about current availability, visit Fairfax County Adult Day Health Care, email adultday@fairfaxcounty.gov or call 571-585-2790, TTY 711.
Herndon Harbor Adult Day Health Care (waitlist as of 11/13/23)
875 Grace Street
Herndon, VA 20170
703-435-8729, TTY 711
Lewinsville Adult Day Health Care (waitlist as of 11/13/23)
1611 Great Falls Street
McLean, VA 22101
703-734-1718, TTY 711
Lincolnia Adult Day Health Care (spaces available as of 11/13/23)
4710 N. Chambliss Street
Alexandria, VA 22312
703-914-1372, TTY 711
Mount Vernon Adult Day Health Care (spaces available as of 11/13/23)
8350 Richmond Highway, Suite 137
Alexandria, VA 22309
703-704-6050, TTY 711
Contact Name
Cristin Bratt, NCS Communications Director
Contact Information
Cristin.Bratt@fairfaxcounty.gov