On January 30 and February 6, Stuff the Bus held food drives at 21 locations throughout Fairfax County and the City of Fairfax to collect nonperishable food donations for area food pantries. The drives were a resounding success, resulting in 33 tons of food, surpassing the 27.6 tons donated during the previous Stuff the Bus food drives in September 2020. 
Credit for the successful drives is not only due to the many generous people who ventured into the cold to drop off bags of food at donation sites, but also to a wide-ranging team of community members and county employees who worked together to make Stuff the Bus run smoothly. 
In preparing for the drives, the first hurdle the team tackled was collecting the 500+ boxes needed to store the donated food while it was transported by Fastran, Cue and school buses to the food pantries. A request for boxes went out to county employees and through the county's volunteer network. Box donations quickly rolled in, including a large number from Fairfax County Fire and Rescue. 
Abby Turnbull, Help Desk Specialist with Land Development Services, received an email about the need for boxes and was inspired to lead a donation effort in the Herrity Building where LDS is located. Through email and word of mouth, Abby made sure that the employees working in the building were aware of the need for boxes and food. Not only did Herrity employees step up and donate numerous boxes for the drive, they also donated eight boxes of food. "One particular day I remember being so thankful and excited when I came to work and saw a huge donation in my office. The donations just kept coming," said Abby.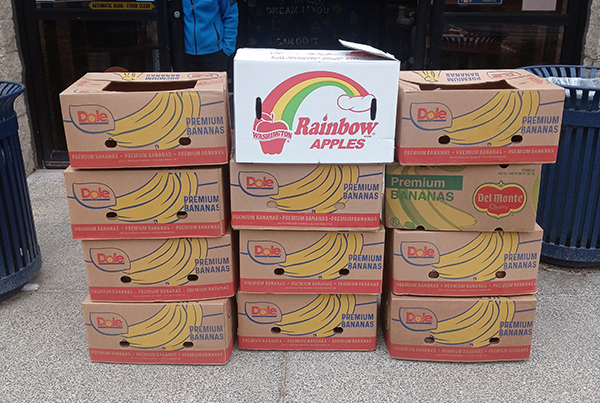 Fairfax County Neighborhood and Community Services staff also collected boxes at Mott, David R. Pinn, James Lee and Little River Glen Community Centers. Volunteers dropped boxes off at Mott and James Lee, including Ashley Carter, who alone donated over 50 apple and banana boxes for the drive. Ashley visited local grocery stores to ask for boxes and established such a good relationship with store employees that they put boxes aside and called her when they were available for pick up. 
Asked why she was so motivated to collect boxes for the drive, Ashley shared, "Due to the pandemic, I was forced out of my position to care for my boys at home due to school closures and I wanted to help out in my community at a safe distance during these trying times. The experience has been amazing these past few weeks giving a helping hand in my community." 
Volunteers also stepped up to assist at donation sites during the drive, helping to unload cars, carry boxes and bags, and load the buses. Several sites got a helping hand from their Board of Supervisors members and Fairfax County Police Department officers assisted at locations throughout the county. At the conclusion of each drive, volunteers also met the "stuffed" buses at the doors of nonprofits to unload and unpack the food donations. 
"Stuff the Bus would not be possible without the help of volunteers," said Hadyn Kihm, Volunteer Services Manager for NCS. "The work they do is tough and physically taxing, often standing outdoors in all kinds of weather and lifting heavy boxes. They are truly the backbone of this program."
Thank you to everyone who pitched in to help fight hunger in our neighborhoods. If you missed the drives but wish to donate, you can make a monetary donation by visiting Volunteer Fairfax's Stuff the Bus Donation Page. The next Stuff the Bus food drives will take place in May 2021.