May 21, 2020
This interview took place prior to the declaration of a COVID-19 national and state emergency.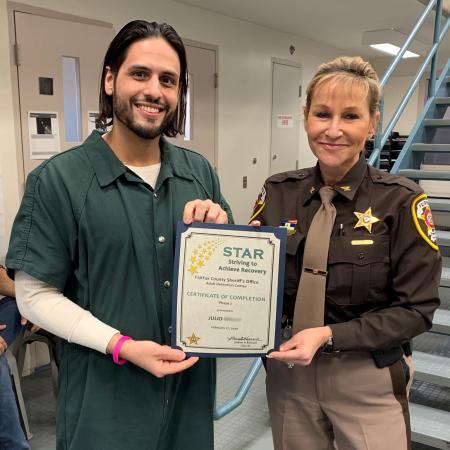 "I had the gift of desperation," said Julio, an inmate in the Striving to Achieve Recovery (STAR) program in the Fairfax County Adult Detention Center (ADC). "I was willing to go to any lengths to stop the cycle of addiction and improve the quality of my life."
Launched by Sheriff Stacey Kincaid in November 2018, STAR is an intense, highly structured addiction treatment and recovery program where the participants live together in a housing unit that serves as a therapeutic community. The voluntary program is led by peer recovery specialists from the Fairfax-Falls Church Community Services Board (CSB) with support from Sheriff's Office sworn, medical and programs staff as well as CSB jail-based clinicians.
After 14 months in the program, Julio aptly summarized the three phases: learn the material, apply the material and teach the material. While the learning and applying never stop, he moved into the teaching phase, helping facilitate a trauma group alongside a clinician. He was selected for the role following an interview process and with recognition of the peer recovery specialist training he received while in the STAR program.
"Mentoring in a trauma group has given me a sense of purpose and allows me to make amends for the wreckage of my life," Julio says. "Trauma and addiction go hand in hand."
He shares with his fellow inmates how he has dealt with trauma and how they can lighten some of the burdens of their past. "The group engages with me because I am an inmate like them, and I'm relatable because I have lived experience as an addict. Now I am a person in recovery."
Julio believes he has to fight harder for his recovery because his addiction is alcohol. "Alcohol is socially accepted by society. Drink responsibility. Go to happy hour. Have a drink to relax. But alcohol is a drug. For me, it's a dangerous drug."
Through the STAR program and its family recovery component, Julio has worked to repair his relationship with his mother. "My mom always tells me that before she moves on from this world, the only thing she wants for me is that I got my life together. She doesn't want to die worrying about me."
Prior to this interview, Julio's mother sent a letter to Sheriff Kincaid. "At first I had my doubts about this program," she wrote. "Afterall, my son was out of control and in and out of jail with no regard for how he was breaking my heart on a daily basis and on a path that many are not as fortunate to return from."
She described her son as "an adult making adolescent decisions." Now she says, "He has learned to take responsibility for his actions and stopped blaming me or others for his downfall."
Julio has a message for his mom. "I will be ok. I want you to be proud of me. I don't want you to worry anymore."
Julio's mother says she has learned much about trauma and addiction through the STAR program. "I am better able to understand the root cause, the process and the treatment."
Unprompted, Julio gives credit to the Sheriff's Office for his recovery. "I take the same pride as Sheriff Kincaid when I talk about the STAR program. She's doing her part from the outside, and I'm doing my part on the inside."
When he is released from the ADC, Julio plans to continue spreading the message that one can overcome the disease of addiction.
Learn more about Sheriff Kincaid's support for including families as part of the recovery process.