The district's annual seedling sale makes low-cost bare-root native shrub and tree seedlings available to Northern Virginia residents. Seedling packages are announced in January, go on sale in February and are available for pickup in April. Trees and shrubs help cleanse water, prevent soil erosion, provide habitat, cool our climate and clean our air. Consider adding native trees and shrubs to your community today!
2020 NATIVE SEEDLING SALE CANCELLED
A message from NVSWCD's Executive Director:
On behalf of the Northern Virginia Soil and Water Conservation District and our partners, I want to sincerely thank you for your support of our Annual Native Plant Seedling Sale. For the safety of our customers, partners, and staff, we had to make the extremely difficult decision to cancel this year's sale and refund all purchases of seedlings, pre-made rain barrels*, composter kits, and Plant NOVA Native guidebooks. We appreciate your patience and understanding during this unprecedented time.
*Those who purchased pre-made rain barrels will receive additional information from Taylor Beach, the Rain Barrel Program Coordinator.
When we began planning for this year's sale last September, we did not anticipate the wonderful response it would receive. It never crossed our minds that we would sell out of seedlings in just four days! Early-February was an exhilarating time and we thought long and hard about expanding our efforts to meet demand. It has given us a lot to consider for next year, and we will make every effort to offer the same seedlings that were in this year's packages.
Our Seedling Sale depends on many people working together. From team building among our Directors, Associates, Staff, and partners working together over two days to bundle the individual seedlings into packages; to the half day of friendly competition between NVSWCD and Fairfax County staff to build as many rain barrels as possible; not to mention the two distribution days, when we have our 350+ customers stopping by with upwards of 50-60 people waiting in line for their bundles or extras, talking with our partners, or picking up rain barrels and composters.
Sadly, a lot has changed to ensure the public health over a few short weeks. We will grieve not having the sale and not being able to support your stewardship goals this year in the same way we have in the past. However, we will all rebound from this and we look forward to seeing you again next year. Linked here are resources for providers of native plants and seedlings, including our suppliers. 
Until then, we wish you the best of health and again thank you for your support and understanding.
Cheers,
Laura
Laura Grape
Executive Director
Northern Virginia Soil and Water Conservation District
---
This year's seedling sale features small shrubs and trees which are hardy in small spaces and bear gorgeous flowers and fruits, and display beautiful colors. The fruits and flowers that these plants grow are important food sources to birds and pollinators, and are delicious treats for us! By planting these native species, you are directly contributing to the betterment of our environment. The plants in each package clean our water and air, prevent soil erosion, provide valuable habitat, and add beauty to your property.
The seedling sale pickup site is Sleepy Hollow Bath and Racquet Club, 3516 Sleepy Hollow Road, Falls Church VA 22044. 
Super Shrub & Tiny Tree Package
(8 Seedlings for $15)
2 Silky Dogwood (Cornus amomum)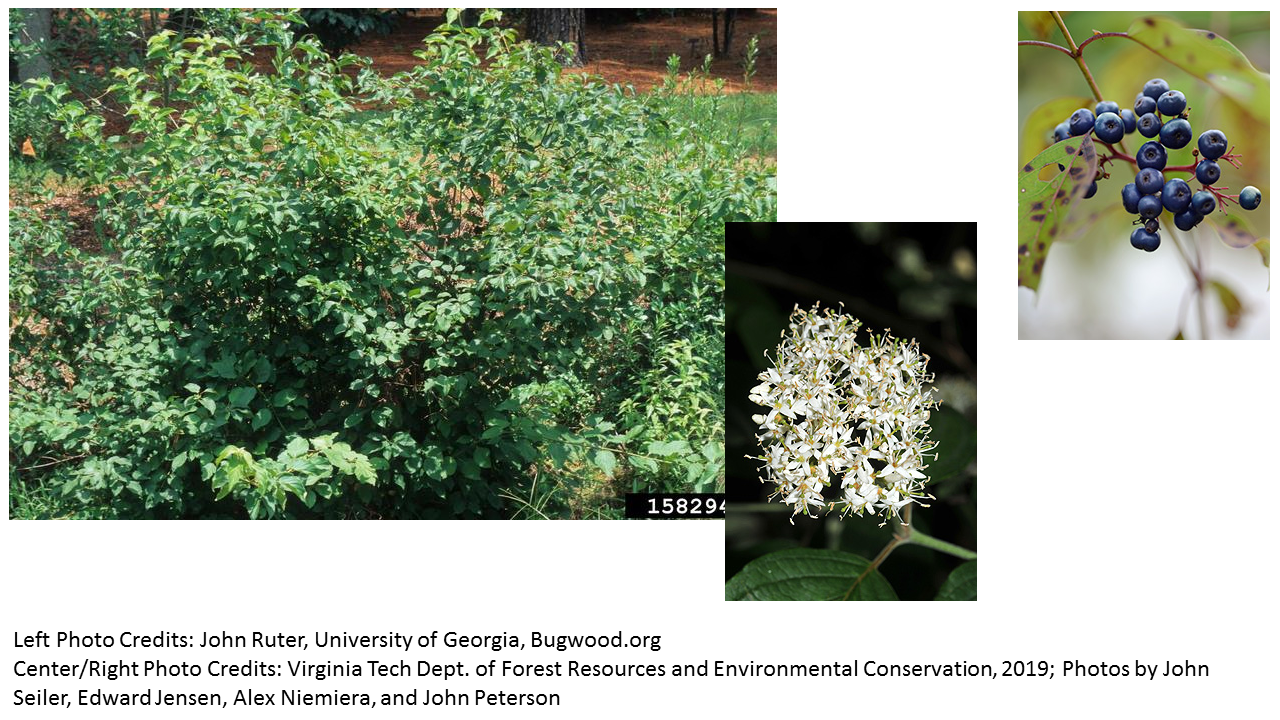 Reaching 6-12' in height, this small tree grows best in full to part sun and moist to wet soil. During the summer months, white flowers grow in clusters between the lush green leaves. Birds and small mammals are delighted by the proliferation of blue berries. As the weather cools and fall begins, the leaves will turn to orange, red, or purple.
Hardiness Zone: 4-8
2 Common Buttonbush (Cephalanthus occidentalis)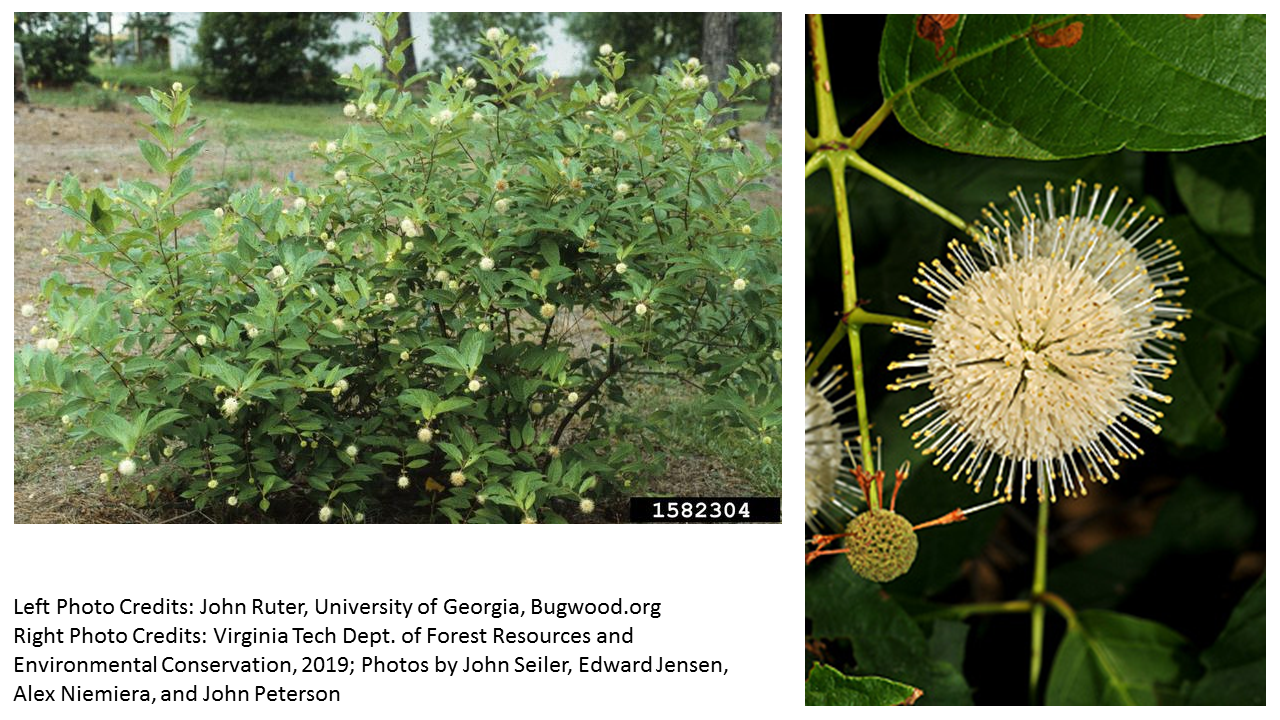 A hardy shrub, the buttonbush will grow to 6-12' in height in a wide range of sun availability and can tolerate flooding up to 36".  Plant buttonbush along pond edges or wetlands, where the soil is moist to wet. Cream colored flowers shaped like starbursts will fill the summer air with their fragrance. During the fall, the leaves change to a yellow-green color. Fruit decorates the shrub from September to January. The buttonbush will benefit butterflies, beneficial insects, waterfowl, and small mammals.
Hardiness Zone: 4-10
2 Smooth Sumac (Rhus glabra)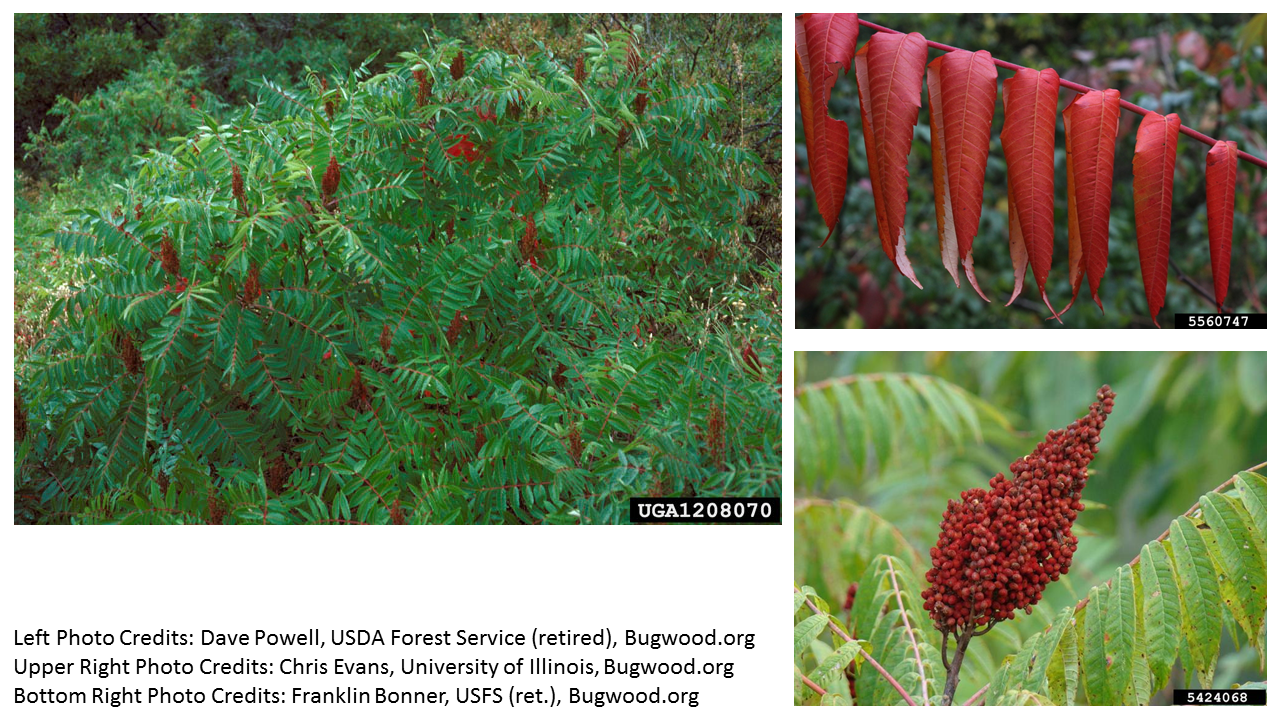 The smooth sumac thrives under fuul sun. The green leafy plant can grow from 2-20' tall in dry to moist soils. Smooth sumac is hardy and drought resistant. In the late summer, vibrant red berries begin to accumulate on the plant, and as fall arrives, the leaves turn bright red as well.
Hardiness Zone: 3-9
2 Eastern Redbud (Cercis candensis)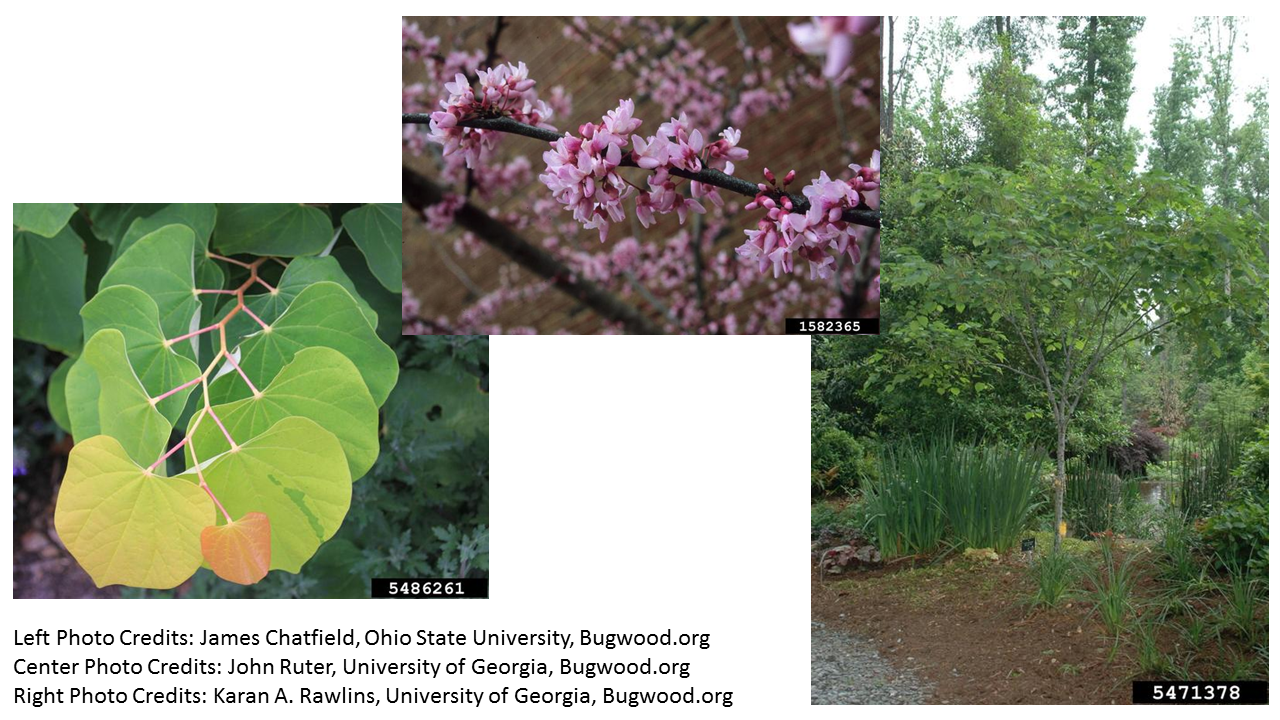 This beautiful tree stretches to 20-35' in height. The eastern redbud grows in part to full shade paired with dry to moist soils. The spring weather ushers in delicate pink and lavender flowers which are sure to delight. Redbud changes colors in the fall yet maintains its beauty by transforming into a golden yellow. Butterflies, small mammals, and songbirds benefit from the tree, which also fixes nitrogen in the soil.
Hardiness Zone: 5-9
Space Savers Package (8 Seedlings for $15)
2 New Jersey Tea (Ceanothus americanus)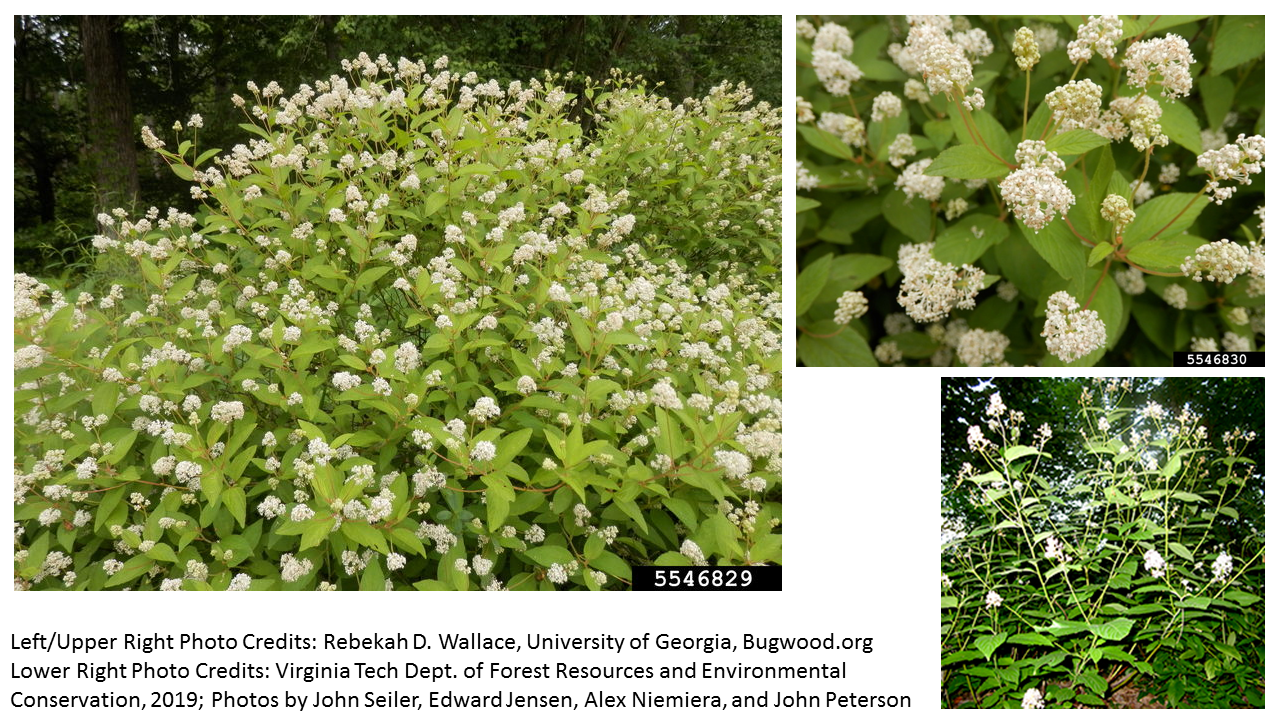 Only 3' in height, this small shrub is perfect for beautifying small open spaces with dry soils. Clusters of small white flowers dot the green-leaved shrub from May to September. Once fall begins, New Jersey Tea shrub shifts to a yellow-tan color and provides black fruit for butterflies, songbirds, and small mammals.
Hardiness Zone: 3-9
2 Mapleleaf Viburnum (Viburnum acerifolium)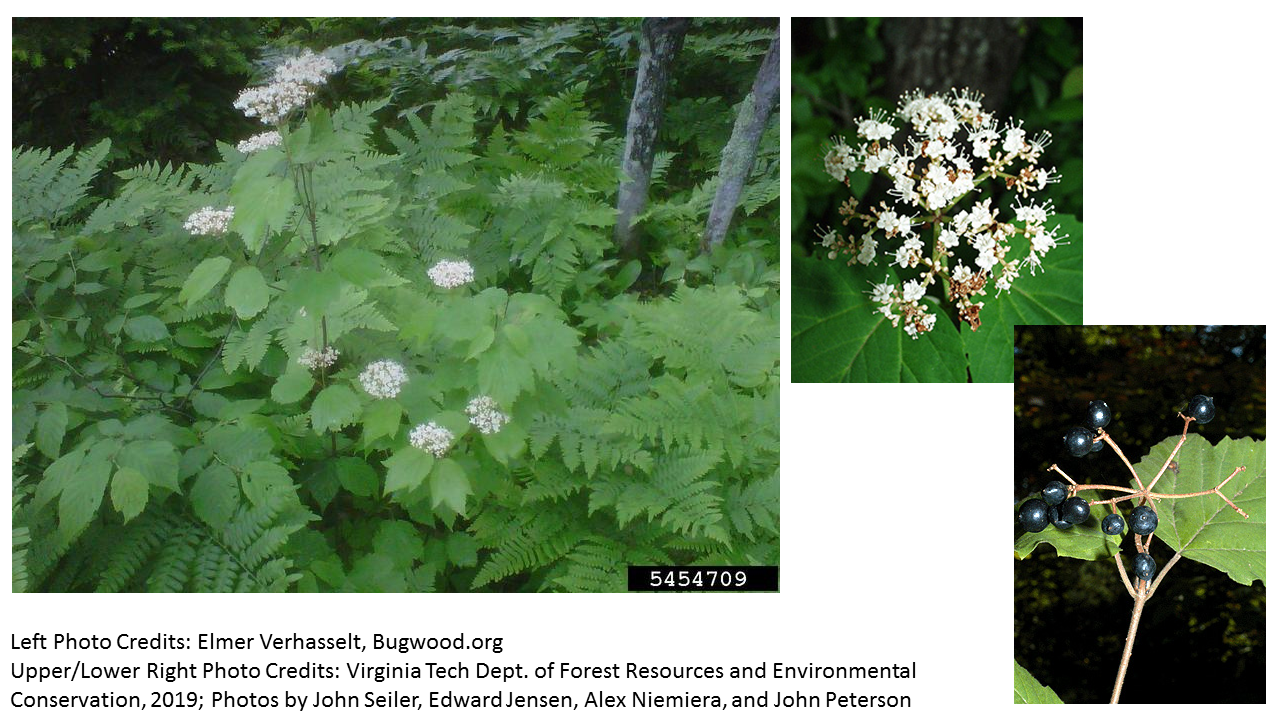 In dry to moist soils, the mapleleaf viburnum grows to 3-6' in full sun to full shade. It does especially well on slopes or in rocky areas. During June, clusters of small white flowers appear, and from August to December, black edible berries grow. Expect to see this plant change to a gorgeous orange, red, or purple color during the cooler fall months.
Hardiness Zone: 3-8
2 Aromatic Sumac (Rhus aromatica)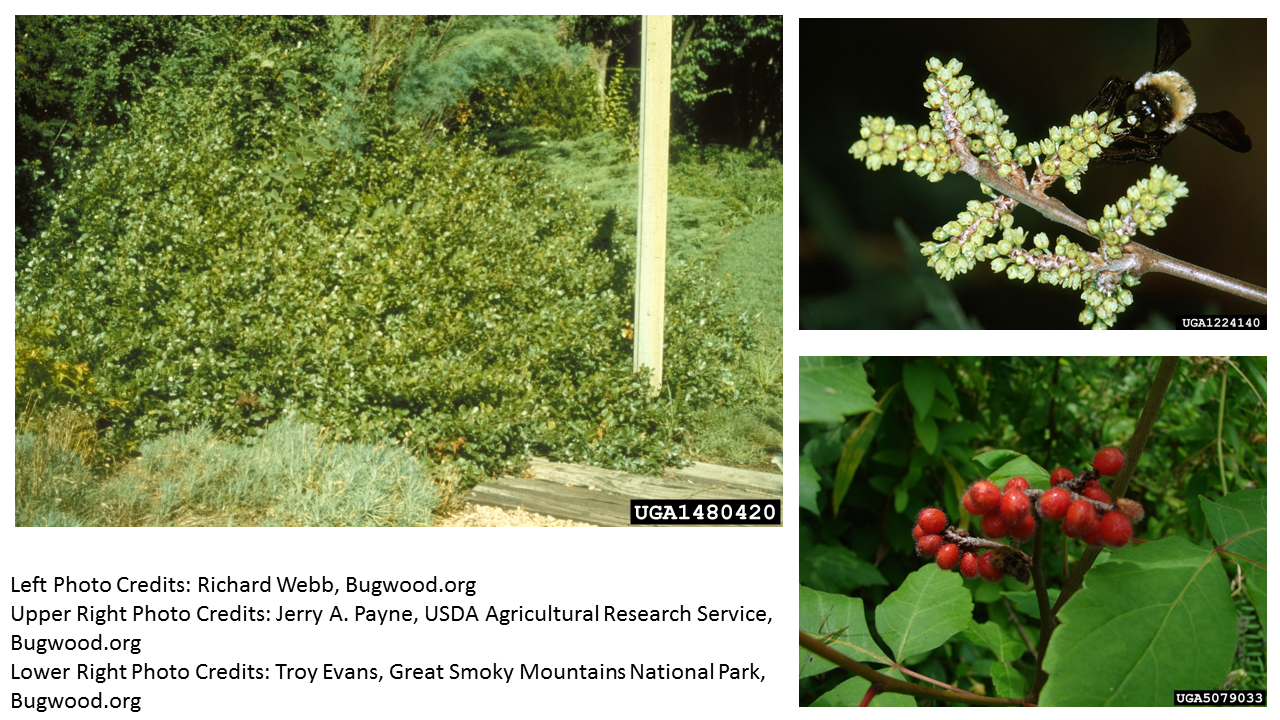 This 6' shrub grows best in full to part sun and dry soils. Aromatic sumac, also known as fragrant sumac, does well on slopes and rocky areas. Fuzzy red wine-colored berries grow in edible clusters between aromatic leaves from July until March. The leaves change with the seasons; when summer turns to fall, the green leaves turn to red. The aromatic sumac provides a high wildlife value for butterflies, songbirds, and small mammals.
Hardiness Zone: 4-8
2 Beautyberry (Callicarpa americana)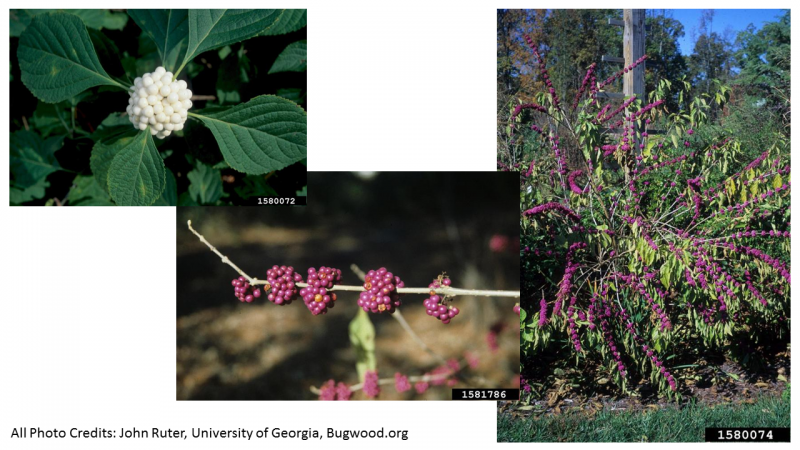 Beautyberry grows up to 6' in dry to moist soils under full to partial sun. Lavender-pink flowers bloom along the shrub from June to August, and lavender berries begin to grow from September to March. Songbirds and small mammals benefit from this plant.
Hardiness Zone:  6-10
Hardiness Zone
The USDA Plant Hardiness Zone Map shows 10 different zones, each of which represents an area of winter hardiness for plants. Fairfax County falls into zones 6b-7a. All of our seedlings are suited for planting in the greater Washington, DC area.
Frequently Asked Questions
Some of our most frequently asked Seedling Sale questions and helpful answers from NVSWCD staff.
What's the skinny on the Seedling Sale?
The Northern Virginia Soil and Water Conservation District holds a Native Tree and Shrub Seedling Sale each spring. The theme and exact species vary from year to year. Orders open online in February. In 2020, the seedling sale was cancelled due to an abundance of caution in regards to Covid-19 and mandates from the Governor. .
When should I place my order?
Please order early! In 2020, online ordering opens on February 4 and will continue until Friday, April 10, or until all available packages have been sold. We often sell out of packages in the first few weeks of ordering.
Are there extras? Can I just show up at pickup?
Yes, but... If you don't make the pre-order deadline, we cannot guarantee that you will get the package or individual seedlings of your choice. We often do have extra packages or individual seedlings for sale on the pickup days.
Can my spouse/child/parent/neighbor/best friend pick up my order for me?
Yes. They will need to have your first and last name and a generally honest disposition. A printout of the order confirmation is helpful but not required. No need to notify us in advance.
What happens if I miss the pickup date?
Don't miss the pickup date! If you can't make it, please send a friend! (See above.) If your order is not collected on the pickup date, it will be donated to a reforestation project in Fairfax County. Seedling sale purchases are nonrefundable.
How large are the packages?
Smaller than you might think! These are first- and second-year bare-root trees and shrubs, which means they are small and come without soil. We add a colored ribbon, put together each package, and wrap the roots in wet newspaper and a plastic bag to keep them moist. In the photo at right, each child is holding one package. Each package of 8 seedlings bundled together is typically 1-3 feet long and 4-6 inches wide.
What were last year's ribbon colors?
Check out our new page, Previous Years' Seedling Ribbon Colors, for species names and the color of the ribbon (flagging tape) we used to identify it.
What should I bring with me for pickup?
A small bucket or basket. You don't want the package to tip over and spill water on your backseat. Don't have a bucket? A sturdy double paper bag or large trash bag will do the job.
How do I care for them?
Keep the roots moist and plant your seedlings as soon as possible. We provide a planting guide when you pick up your seedlings. Dig a hole wider than it is deep. We recommend watering throughout the summer for the first year, especially if your tree or shrub is in direct sunlight. Fertilizer is not needed. A light top-dressing of leaf mulch is optional.
How fast will they grow?
The seedlings typically start out in a dormant state, but when cared for properly, they can grow into lovely landscape specimens faster than you think. Each species has a different growing speed. Since it can be difficult to protect a small first-year seedling from mowers, deer, rabbits and – occasionally – human feet, we include two of every species in the packages.
Rarely – once every several years – we have had a supplier issue (not VDOF) where a large number of seedlings of a particular shrub or tree have not survived. In those cases, we give feedback to the supplier and monitor their seedlings in following years to ensure that it is not a repeat occurrence. Even when that happens, we believe the benefit and low cost we offer by purchasing in bulk outweighs the risk. It's still a great deal!
Where do you get the seedlings?
Typically we get most of our seedlings from the Virginia Department of Forestry. We like to support our state forestry department and help increase demand for native trees and shrubs. We also purchase seedlings from other neighboring states and private nurseries.
What are the funds used for?
Good question! First, the funds cover the cost of the seedlings and associated program costs. NVSWCD uses any leftover funds to support educational programs, including the high school Envirothon competition, biological stream monitoring, storm drain education, Youth Conservation Camp, Science Fair awards, and other outreach activities. Thank you for supporting these efforts through the Seedling Sale!
Have more questions? Feel free to contact us.