We are sold out of all pre-order seedlings for the 2018 Seedling Sale!
Thank you for your support of this year's native plant Seedling Sale. The seedlings this year have been tremendously popular and we have completely sold out of the pre-order seedling packages--that's more than 600 seedling packages!
Although we are not able to order more packages, we sometimes have extra individual seedlings for sale on the pickup days (April 20 and 21). If the seedlings you want are available, they will be sold for $2 a "stem" on a first-come, first-served basis. We will accept cash or checks only on the day of the sale. The pick up begins at 9:00 am on Friday, April 20, at the Packard Center, 4022 Hummer Road, in Annandale. Arriving at or near starting time on Friday will give you the best selection.
---
The district's annual seedling sale makes low-cost bare-root native shrub and tree seedlings available to Northern Virginia residents. Seedling packages are announced in January, go on sale in February and are available for pickup in late April or early May. Trees and shrubs help cleanse water, prevent soil erosion, provide habitat, cool our climate and clean our air. Consider adding native trees and shrubs to your community today!
2018 NATIVE SEEDLING SALE
Deer Tolerant
This year's seedling sale features shrubs and trees that are tolerant of deer browse. While no plant is completely deer-proof, these seedlings are less susceptible. They help clean our water and air, prevent soil erosion, provide valuable habitat, and add beauty and resilience to your landscape. Enjoy!
The Shrub and Small Tree Package features 10 seedlings for $16.95. The Tree Package includes 6 seedlings sold for $11.95. A full, nonrefundable payment must accompany your order by Wednesday, April 11, or until supplies run out. You will receive a confirmation receipt with a map to the pickup site at the Packard Center in Annandale. Orders may be picked up on Friday, April 20, 9:00 a.m.-4:00 p.m., or Saturday, April 21, 9:00 a.m.-noon.
Help us streamline our operations by paying online with a credit card, debit card or e-check. Orders for 2018 seedling packages open February 1. Please follow this link to our online seedling sale store.  View online seedling sale store: http://nvswcd-velocitypayment-com.3dcartstores.com/
Tree Package (6 Seedlings for $11.95)
2 Eastern Redbud (Cercis canadensis)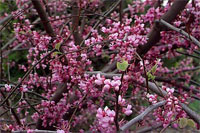 Height to 20 feet. Spread to 12 feet. Shade tolerant. Very effective as a mass planting. Several picturesque trunks. Large, heart-shaped leaves. Flowers are small pink clusters of pealike blooms that appear in early spring. Grows best in part to full shade, with dry to moist soil.
Hardiness Zone 4-9.
Photo Credits: University of Connecticut Horticulture
2 Pawpaw (Asimina triloba)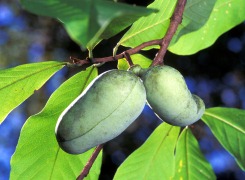 This small tree has long, broad leaves and the largest fruit native to our continent. It grows best in moist, well-drained areas in full sun to part shade. The Pawpaw usually reaches 12-20 feet in height. It can form stands from root suckers.
Hardiness Zone 5-8.
2 Shortleaf Pine (Pinus echinata)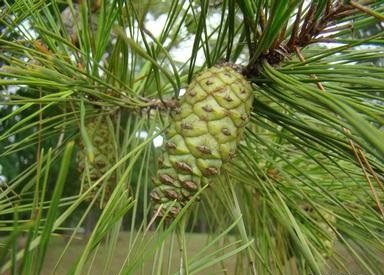 Height: to 100 feet. Shade tolerant. Evergreen foliage. Slender, flexible needles are 3-5 inches long, 2-3 in a bundle. Dark yellow-green in color. Oval cones are 2 inches long and red to brown in color. Twigs are green and purple when young, later turning red-brown. Bark is reddish brown with scaly plates. Small, open, pyramidal crown. Does well in full sun to part shade, with dry to moist soils.
Hardiness Zone 6-9.
Photo Credits: Franklin Bonner, USFS (ret.), Bugwood.org
Shrub and Small Tree Package (10 Seedlings for $16.95)
2 Witchhazel (Hamamelis virginiana)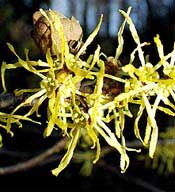 Very attractive small tree with fragrant bright yellow, ribbonlike flowers in fall and winter. Fall foliage is also bright yellow. Height to 30 feet with a spread of 15 feet. Grows well in sun or shade, and dry to moist soils.
Hardiness Zone 3-8.
2 False Indigo Bush (Amorpha fruticosa)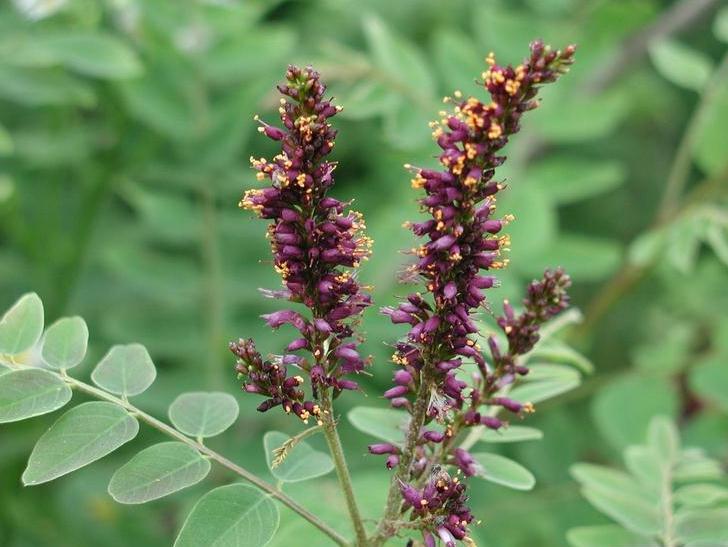 Deciduous shrub reaches heights of 12-18 feet. Provides excellent food and cover for quail, songbirds, and other wildlife. Unusual purplish-blue spike flower in June. Grows best in full sun to part shade with moist to dry soils.
Hardiness Zone 3-8.
Photo Credits: Leslie J Mehrhoff, University of Connecticut, Bugwood.com
2 Serviceberry(Amelanchier canadensis)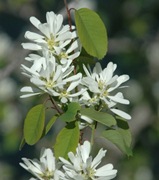 Small deciduous tree, 20-35 feet. Billowy masses of white flowers in early spring complement attractive silvergray bark. Maroon-red to black fruit are edible and sweet! Part sun to shade, moist to wet soils.
Hardiness Zone 3-8.
2 Silky Dogwood (Cornus amomum)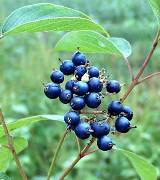 Height: 6-10 feet. Shade tolerant. A small shrub that is useful as food and cover for many kinds of wildlife. Dense foliage is dark green on top and silky underneath. Turns red in fall. Small flat clusters of yellowish-white flowers in late May, followed by blue or grayish berries in the fall. Bark is scarlet red to purple in color all winter long. Grows well in wet to moist soils and full to part sun.
Hardiness Zone 3-7.
2 Spicebush (Lindera benzoin)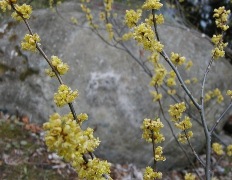 Height: 6-12 feet. Very tolerant of shade. Also tolerant of wet conditions. Very showy deciduous shrub. Small yellowish-white flowers bloom in spring and are spicy scented. Oblong, green leaves turn lemon yellow in fall. Tiny scarlet berries are football shaped, attract songbirds, and fall through early winter.
Hardiness Zone 4-9.
Photo Credit: Larry Allain, hosted by USDA-NRCS Plants database
---
Hardiness Zone
The USDA Plant Hardiness Zone Map shows 10 different zones, each of which represents an area of winter hardiness for plants. Fairfax County falls into zones 6b-7a. All of our seedlings are suited for planting in the greater Washington, DC area.
Frequently Asked Questions
Some of our most frequently asked Seedling Sale questions and helpful answers from NVSWCD staff.
What's the skinny on the Seedling Sale?
The Northern Virginia Soil and Water Conservation District holds a Native Tree and Shrub Seedling Sale each spring. The theme and exact species vary from year to year. Orders open online in February. In 2018, pickup is on April 20 and 21 at the Packard Center in Annandale.
When should I place my order?
Please order early! In 2018, online ordering opens in February and will continue until Wednesday, April 11. If that date has passed, don't panic, there may still be an opportunity to purchase a package.
Are there extras? Can I just show up at pickup?
Yes, but... If you don't make the pre-order deadline, we cannot guarantee that you will get the tree or shrub package of your choice. We often do have extra packages or individual seedlings for sale on the pickup days (April 20 and 21).
Can my spouse/child/parent/neighbor/best friend pick up my order for me?
Yes. They will need to have your first and last name and a generally honest disposition. A printout of the order confirmation is helpful but not required. No need to notify us in advance.
What happens if I miss the pickup date?
Don't miss the pickup date! If you can't make it, please send a friend! (See above.) If you do miss it, you can coordinate to pick them up from our office during business hours the following week. If they go unclaimed, we reserve the right to donate them before they dry out. Seedling sale purchases are nonrefundable.
How large are the packages?
Smaller than you might think! These are first- and second-year bare-root trees and shrubs, which means they are small and come without soil. We add a colored ribbon, put together each package, and wrap the roots in wet newspaper and a plastic bag to keep them moist. In the photo at right, each child is holding one package. Each package of 6-10 seedlings bundled together is typically 1-3 feet long and 4-6 inches wide.
What were last year's ribbon colors?
Check out our new page, Previous Years' Seedling Ribbon Colors, for species names and the color of the ribbon (flagging tape) we used to identify it.
What should I bring with me for pickup?
A small bucket or basket. You don't want the package to tip over and spill water on your backseat. Don't have a bucket? A sturdy double paper bag or large trash bag will do the job.
How do I care for them?
Keep the roots moist and plant your seedlings as soon as possible. We provide a planting guide when you pick up your seedlings. Dig a hole wider than it is deep. We recommend watering throughout the summer for the first year, especially if your tree or shrub is in direct sunlight. Fertilizer is not needed. A light top-dressing of leaf mulch is optional.
How fast will they grow?
The seedlings typically start out in a dormant state, but when cared for properly, they can grow into lovely landscape specimens faster than you think. Each species has a different growing speed. Since it can be difficult to protect a small first-year seedling from mowers, deer, rabbits and – occasionally – human feet, we include two of every species in the packages.
Rarely – once every several years – we have had a supplier issue (not VDOF) where a large number of seedlings of a particular shrub or tree have not survived. In those cases, we give feedback to the supplier and monitor their seedlings in following years to ensure that it is not a repeat occurrence. Even when that happens, we believe the benefit and low cost we offer by purchasing in bulk outweighs the risk. It's still a great deal!
Where do you get the seedlings?
Typically we get most of our seedlings from the Virginia Department of Forestry. We like to support our state forestry department and help increase demand for native trees and shrubs. We also purchase seedlings from other neighboring states and private nurseries.
What are the funds used for?
Good question! First, the funds cover the cost of the seedlings and associated program costs. NVSWCD uses any leftover funds to support educational programs, including the high school Envirothon competition, biological stream monitoring, storm drain education, Youth Conservation Camp, Science Fair awards, and other outreach activities. Thank you for supporting these efforts through the Seedling Sale!
Have more questions? Feel free to contact us.