The site visit request application period for VCAP (private/individual property owners) is now closed. If you are an HOA or place of worship located in FAIRFAX COUNTY, site visit applications will be accepted on a rolling basis.
Email conservationdistrict@fairfaxcounty.gov if you would like to be notified of when the FY21 program opens.
You Qualify for VCAP (Virginia Conservation Assistance Program) Watershed Conservation projects if…
You are an individual property owner, homeowner's association, or place of worship in Fairfax County, City of Alexandria, and City of Fairfax.
You read and understand the timeline and how it differs from CAP (see below).
The individual agrees to maintain practices for 10 years after installation. NVSWCD verifies maintenance and provides technical, but not financial assistance for maintenance.
You are voluntarily installing a stormwater best management practice (BMP) and not as a result of an easement violation or new construction.
The property is 3 years past the date of when the residential occupancy permit (ROP) has been issued.
We highly encourage property owners in the following areas to apply to the VCAP program:
Watersheds

Little Hunting Creek
Dogue Creek
Pimmit Run
Cameron Run
Pohick Creek
Accotink Creek

Communities

Hollin Hills
Pimmit Hills
Annandale Acres
Chesterbrook

City of Fairfax
City of Alexandria
Title 1 School Service Areas
Low Income Housing Communities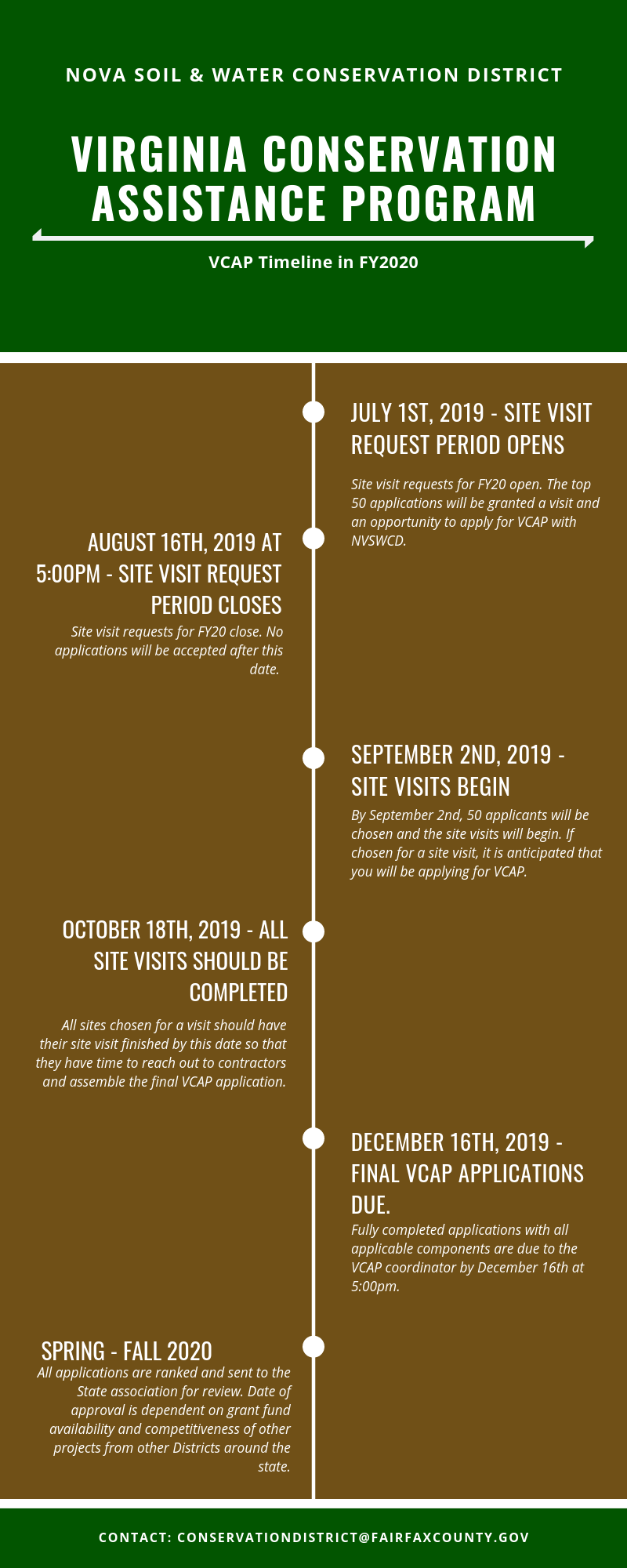 The projects that we are focused on installing aim to capture and absorb stormwater runoff, directing it into the soil. For a complete list of program practices, please visit the Virginia Association of Soil and Water Conservation Districts Virginia Conservation Assistance Program webpage.
Unfortunately, we do not fund the following projects at this time:
French drain systems
Bulkhead or revetment projects
Stream restorations
Landscaping without Virginia native plants
Urban nutrient management plans
Dog waste stations
Requesting a Site Visit
The site visit request application period is now closed. Site visit applications will be ranked according to program criteria and the 50 highest ranking projects will receive a site visit and be invited to officially apply to the program.

Still have questions?
Please see our Frequently Asked Questions section or reach out to conservationdistrict@fairfaxcounty.gov or call (703) – 324 – 1460 TTY 711.