The VCAP (private/individual property owners) is not accepting requests for consideration at this time. To be notified when the next round of requests can be submitted please add your name to our notification email list here.
VCAP (Virginia Conservation Assistance Program) eligibility requirements include…
Property owners in Fairfax County, City of Alexandria and City of Fairfax who are experiencing detrimental impacts from stormwater.
Property is not addressing any stormwater management requirements imposed by the jurisdiction in which the property is located.
The property has not had any site disturbing construction activities within the past three years.
The owner will agree to maintain any installed practices for ten years.
We highly encourage property owners in the following areas or circumstances to apply to the VCAP program:
Watersheds
Little Hunting Creek
Dogue Creek
Pimmit Run
Cameron Run
Pohick Creek
Accotink Creek
Communities
Hollin Hills
Pimmit Hills
Annandale Acres
Chesterbrook
City of Fairfax
City of Alexandria
Special Circumstances
Low Income Housing Communities
Neighbors that are working together to resolve shared drainage and erosion concerns
Located in an area within their neighborhood that sits at a higher elevation
VCAP eligible practices:
Impervious surface removal
Conservation landscaping
Rain gardens
Dry wells
Bioretention
Infiltration
Constucted wetlands
Living shorelines
Green roofs
Rainwater harvesting
Permeable pavement
Vegetated stormwater conveyances
For a complete description of these practices, please visit the Virginia Conservation Assistance Program webpage.
These projects are NOT eligible for VCAP cost-share funds:
French drain systems
Bulkhead or revetment projects
Stream restorations
Landscaping without Virginia native plants
Urban nutrient management plans
Dog waste stations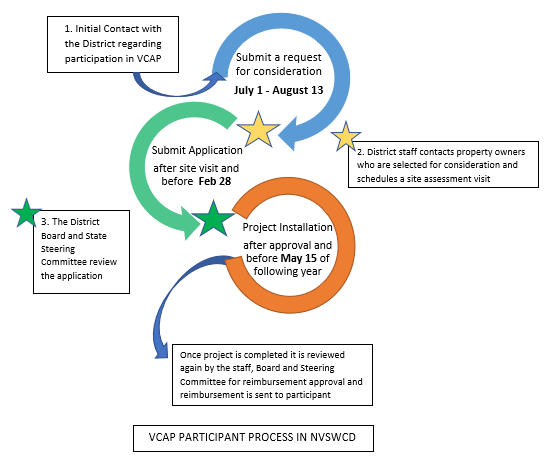 Next Steps
NVSWCD will select 50 properties for an on-site assessment of the issues identified in the submitted VCAP request form. Property owners who have submitted a request form will be notified in early September 2021 regarding whether they qualify for a site visit. 

Still have questions?
Please see our Frequently Asked Questions section or reach out to NVSWCD or call (703)324-1460 TTY 711.