The Chesapeake Bay Preservation Ordinance (CBPO) was adopted to protect our local streams and one of the world's most productive estuaries, the Chesapeake Bay, from pollution due to land use and development. All of Fairfax County drains into the Potomac River and ultimately the Chesapeake Bay. In an effort to protect and improve the quality of these waterways, Fairfax County designated environmentally sensitive areas known as Resource Protection Areas.
Resource Protection Areas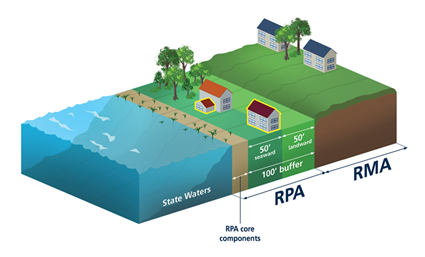 Resource Protection Areas (RPAs) are regulated corridors of environmentally sensitive land that lie alongside or near the shorelines of streams, rivers and other waterways. In their natural condition, RPAs protect water quality, filter pollutants out of stormwater runoff, reduce the volume of stormwater runoff, prevent erosion and perform other important biological and ecological functions.
In Fairfax County, RPAs include any land characterized by one or more of the following features:
Tidal wetland;
Tidal shore;
Water body with perennial flow;
Nontidal wetland connected by surface flow and contiguous to a tidal wetland or water body with perennial flow;
Buffer area that includes any land within a major floodplain and any land within 100 feet of a feature listed in 1-4.
Development, uses and activities within RPAs are regulated by the CBPO, Chapter 118 of the Code of the County of Fairfax.