Take the Words Matter Challenge this April during Child Abuse Prevention Month. Parents and caregivers, be intentional every day to speak words of encouragement that build up children's sense of worth! 
Children are listening all the time, even when adults least expect it. Children notice the way you talk to yourself and others. Most of all, they notice the way you talk to them and about them. Model self-love for your children, and show compassion and caring in your interactions with children (and others) to nurture kindness and resilience in them. 
We all know that a few kind words can change your entire outlook on a situation, but it can be a challenge to think of positive things to say in the moment. So, we've compiled a list of words of encouragement to use in various situations to help parents be their children's biggest champions.
These affirmations will help spark ideas for different phrases you can use to show love, motivate children, provide support during a tough time, and boost their self-esteem.
Remember, children and teenagers are counting on their families, friends, and other caring adults to support them in good times and bad. Accept the Words Matter Challenge and start a lifelong habit.
Be the Voice They Need to Hear during Child Abuse Prevention Month and every month.
Words of Encouragement for Children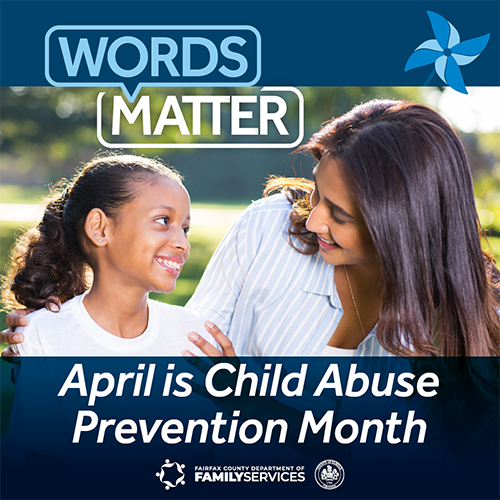 I love you

You can do it

You are a good person

I am grateful for you

I am proud of you

You are special

That was a really good choice

Mistakes mean you are trying

You matter

You are an amazing person

Just be yourself 

You are a creative thinker 

Do your best

I trust you 

It's not your fault 

You make a difference

You are one of a kind

You are brilliant

You have choices

You are worthy

You were right

It's okay to be scared (or sad)

It's your body

You have a voice

Love yourself

I see you are trying

I believe in you

How can we work together to fix this?

I am here to listen

You are safe

It will be okay

You are a great helper

What a great question/idea
---
Fairfax County is a community that is absolutely dedicated to the safety of children and to providing the appropriate supports to parents to keep families healthy. The Department of Family Services' signature Child Abuse and Neglect Prevention campaign is focused on Building Stronger Families. 

Strong families can provide safe and healthy childhoods and lead to creating a thriving community.
(return to Child Abuse Prevention Month)