(Posted 2022 January)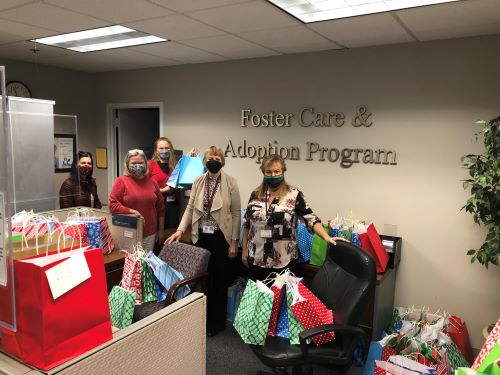 We are so grateful that in 2021, the Fairfax County community came through to make the season merry and  bright for so many families. COVID-19 is still presenting challenges for many families in our community, and the need is great. In the face of various obstacles, the Adopt-A-Family program seems to have reached a new normal and provided abundant holiday cheer.
The generosity of the 509 donors made it possible to serve 638 families this year, exceeding the overall giving in 2020. We provided gifts, toys, food, clothing, and winter items to 1,371 children, surpassing last year's number of recipients. All told, the program received donations totaling nearly $400,000.
Community Support Goes Beyond Gifts
Our donors consistently go above and beyond our expectations to help and support families not only during the holidays but all year long. For instance, many sponsors were able to provide gift cards toward the purchase of Thanksgiving and other holiday dinners with all the trimmings for their Adopt-a-Families. Even after all the families had been matched for holiday gifts, donors continued their support by providing gift cards, winter coats, and more.
In fact, rather than turn away those donors who joined Adopt-A-Family later in the season, Volunteer & Partner Services asked them to support our newly created Coats for Kids program. Donations to this Adopt-A-Family offshoot program enabled VPS to distribute 381 winter coats benefitting families identified through Children, Youth and Families and HACAN. This was our second successful coat drive of the season.
Thank You for Your Exceptional Support
I can't say it enough times, Thank You, to each and every donor for spending your time and resources to make the holidays unfor-gift-able for these families. We would especially like to acknowledge the Fairfax County Democratic Committee's Foster Kid Gift Drive which set a record for the largest single donation to the Department of Family Services, estimated at more than $48,000.
It is truly remarkable how the community can come together to provide hope and joy through simple acts of goodwill.
Your compassion and warmth of spirit speaks volumes, and I am sure that it helped families to ring in the new year encouraged by the outpouring of community spirit.