(Posted 2023 January)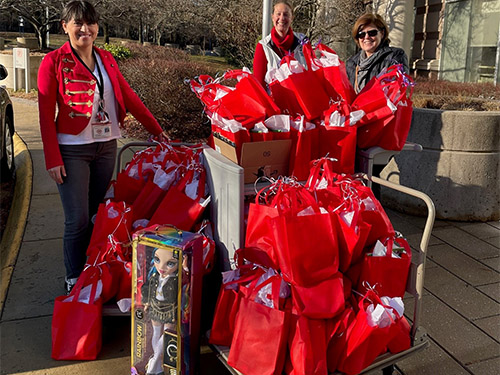 Making the holidays happen for a family is no small feat. The Department of Family Services' workers in our Children, Youth, and Families Division have many demands. Some of these are mandatory and others become necessary because of the situations the families are experiencing. The Adopt-A-Family program helps families greatly, but it adds one more layer of complexity to the work staff does to support families.
It starts with getting a wish list for each child in the family. Some of our families have very little, so this allows them to request the basics such as socks, clothing, needed baby items, etc. They also make a list including any of their children's much-desired toys. Our donors use their creativity to bring some holiday magic to fulfilling the lists, making sure that each child receives something special just for them.
Lots of coordination goes into making this holiday endeavor a success. To make sure that the confidentiality of the families is protected, CYF practitioners receive the gifts from donors and deliver them to families. They would like our donors to know just how much joy and relief families express from knowing their children will have new gifts during the holiday season.
Who are these donors who give of their time and treasure to make the holidays happen for children in our community? This year 494 donors helped to support 685 families with 1,537 children. Our donors come from all walks of life including:
A family with a loved one who was in foster care as a youth.
A Girl Scout troop with the goal of experiencing giving without receiving.
A teacher who wants to make a difference for children in her school who have unmet needs.
A faith community coming together to make the season brighter for the less fortunate.
A company providing an opportunity for employees and customers to give from the heart this holiday season.
Members of the Fairfax County Democratic Committee as part of their Foster Kid Holiday Drive.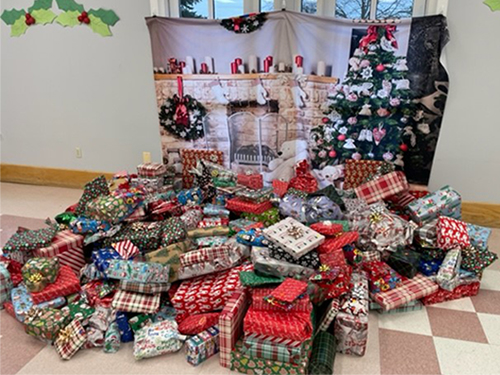 This collaboration between DFS and the community wraps these families with support showing them and their children how much they matter, are cared for, and deserving of a special holiday filled with heartfelt gifts.
We want to thank each donor who stepped out of their normal day-to-day lives to support families with holiday gifts and gift cards. Please know that your acts of kindness made a huge difference to the children and their families.
---
This article posting is part of The Volunteer Post Newsletter for current and potential volunteers, sponsors and donors interested in supporting children and families in crisis. Learn more about Fairfax County Department of Family Services' Volunteer & Partner Services Program (VPS).