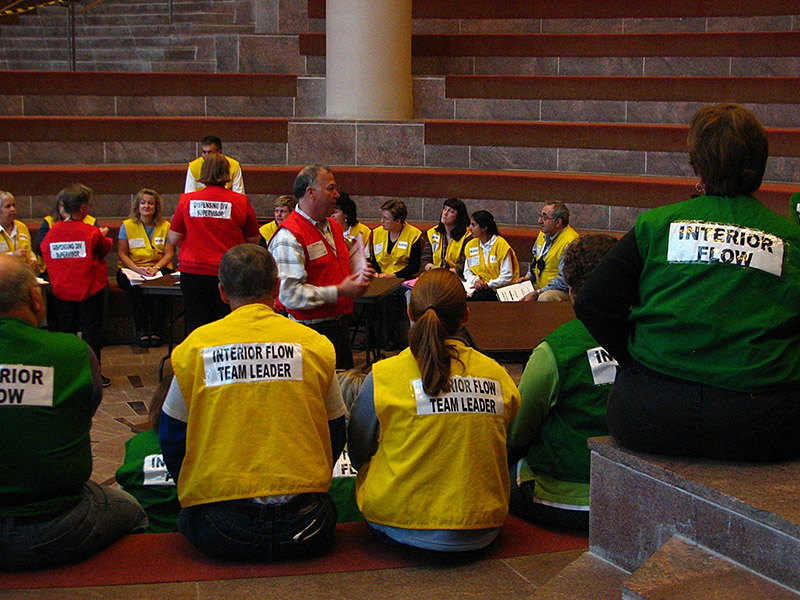 Fairfax Medical Reserve Corps (MRC) directly supports the Fairfax County Health Department during emergency response. Activities can vary depending upon the needs of the Health Department and the skills and interests of the volunteers.
Past Emergency Response Activations
Cub Run Mass Care Shelter, 2018
Cub Run RECenter Shelter, May 5-7 - a total of 5 medical and non-medical volunteers provided 38 hours in support of mass care shelter operations for the seniors displaced by a fire at the Forest Glen Assisted Living Apartment Complex in Centreville.
TB Outbreak, 2017
From April to June 2017, MRC medical and non-medical volunteers assisted a Call Center and three Point of Testing Clinics for two separate TB investigations in Fairfax. Volunteers staffed such roles as: Registered Nurse to conduct QuantiFERON®-TB (QFT) testing, nurse assistant, flow control, greeting, call taker and call screener and dedicated approximately 150 hours in support of our Health Department ongoing response operations.
Hepatitis A Outbreak, 2016
Four Registered Nurse volunteers who had previously completed all the VDH vaccinator training requirements helped vaccinate restaurant staff that were exposed to Hepatitis A. Non-medical volunteers assisted with registration and flow control.
Zika Prevention, 2016
Fairfax MRC volunteers supported the Health Department with Zika preventive services. Non-medical volunteers provided more than 60 hours in assembling more than 1,500 Zika prevention kits for pregnant women for distribution to local obstetrician-gynecologist (OBGYN) offices.
Measles Investigation, 2015
During the month of October 2015, a total of 9 MRC volunteers provided 88 hours of service in support of the Health Department's measles response operations by staffing our call center to contact individuals who may have been exposed.
Ebola, 2014
Fairfax MRC support the Health Department in the Ebola Response/Monitoring activities, serving in the Monitoring Group and as On-Call Home Visit assistants. During the course of eight weeks, Fairfax MRC volunteers provided more than $8,500 of service, primarily on the weekends and holidays, providing much needed relief to the Health Department staff.
H1N1, 2010
The Fairfax County Health Department mobilized MRC volunteers in response to the H1N1 influenza pandemic of 2009-2010. MRC volunteers participated in mass vaccination clinic operations, at district office clinics, and at specialized clinics geared towards reaching vulnerable communities. More than 1,000 Fairfax MRC volunteers donated more than 19,000 hours to support this unprecedented effort during the 2009-2010 H1N1 pandemic response.
Special Events
Fourth of July Celebration, 2017
Six Fairfax MRC medical volunteers deployed with volunteers from Arlington and Loudoun MRC units, to provide basic life support in National Park Service medical aid stations during the 2017 Independence Celebration on the National Mall. This was the third and most successful federal deployment. Physicians, a physician assistant and registered nurses contributed a total of 99 hours, with a monetary value of their time equivalent to $4,800.
Presidential Inauguration, 2017
On January 20, 2017, the Fairfax Medical Reserve Corps (MRC) successfully collaborated with state and federal partners to provide 9 MRC medical volunteers to the 45th Presidential Inauguration event. Our Fairfax MRC Volunteers along with other MRC volunteers from surrounding jurisdictions Alexandria, Arlington, Loudoun and Prince William, worked alongside U.S. Department of Health and Human Services Disaster Medical Assistance Teams to provide medical aid to Inauguration attendees.
Community Assessment for Public Health Emergency Response (CASPER), 2016
The Health Department conducted a CASPER in select neighborhoods throughout the county. CASPER is a tool developed by the U.S. Centers for Disease Control and Prevention to enable government at all levels to rapidly assess a community's health needs after a disaster, as well as to measure community preparedness for disasters or emergencies using a validated sampling methodology. The survey was conducted by teams composed of MRC, Community Emergency Response Team (CERT) and American Red Cross (ARC) volunteers, along with some county staff. The total number of volunteers involved was 48 MRC, 4 ARC and 7 CERT, as well as 6 Health Department staff, 4 Health Department interns, and 1 staff member from the Office of Emergency Management. These volunteers committed more than 175 hours in training to prepare for CASPER, and 550-plus hours doing the assessment.
World Police and Fire Games, 2015
Forty-six Fairfax MRC volunteers were on "stand-by" during the World Police and Fire Games to assist in opening a Point of Dispensing site, if necessary. These volunteers contributed 230 hours in training and response, with additional hours in July.