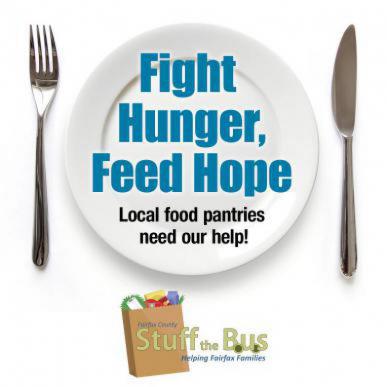 For the past nine years, Stuff the Bus has held food drives twice a year during times when donations often drop off – after the winter holidays and during the summer. Hosting drives during these critical times ensured that area nonprofits were able to meet the needs of hungry people in Fairfax County. 
The COVID-19 pandemic has increased the need for food in our area, so Stuff the Bus is working to respond to the demand. In May, food drives were held on two days at 21 locations throughout Fairfax County. The response was immense, with 33.6 tons of food collected for area nonprofits. 
On Saturday, September 12 and Saturday, September 26, Fastran buses will again be parked at 21 locations from 10 a.m. to 3 p.m. to collect food donations. Buses will be located in less-frequented lots throughout the county, including many Board of Supervisors' offices and the Fairfax County Government Center, to allow donors to comply with social distancing recommendations. 
See the complete list of locations to drop off your food donations, what to put on your shopping list to donate, and tips for donating safely at Stuff the Bus.
Stuff the Bus Virtual Food Drive
For those who are unable to donate in person but want to contribute, donations can be made to the virtual Stuff the Bus food drive by visiting Volunteer Fairfax's Donation Page to connect with and donate to nonprofits serving our community.