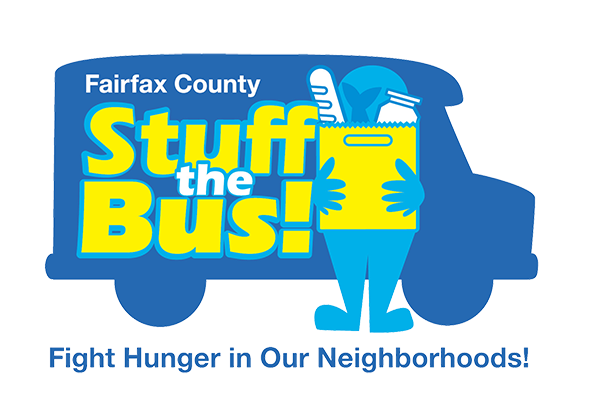 Stuff the Bus began in 2011 in response to a critical need to help restock the shelves of local food pantries after the holidays. This collaborative program is a partnership between Fairfax County Government and local nonprofits. Now in its 10th year, Stuff the Bus continues to support food assistance efforts for families and households. Since inception, Stuff the Bus has collected over 220 tons of food to feed hungry people in Fairfax County.
The next Stuff the Bus event will take place on Saturday, October 9, from 10 a.m. to 3 p.m.
DONATION LOCATIONS for October 9, 2021:
View and print a flyer of all the Stuff the Bus donation locations for October 9, 2021.
District
Location    
Benefitting
Braddock

Braddock District Supervisor's Office
9002 Burke Lake Road
Burke, VA 22015

ECHO
Braddock
Oaks Community Center
5708 Oak Leather Drive
Burke, VA 22015
ECHO
Dranesville

Great Falls Library
9830 Georgetown Pike 
Great Falls, VA 22066

LINK
Dranesville
McLean Government Center
1437 Balls Hill Road
McLean, VA 22101
LINK
Fairfax County
Fairfax County Government Center
12000 Government Center Parkway 
Fairfax, VA 22035
Food for Others
Hunter Mill
Hunter Mill District Supervisor's Office
1801 Cameron Glen Drive
Reston, VA 20190
Herndon-Reston Fish
Hunter Mill
Patrick Henry Library
101 Maple Ave, East
Vienna, VA 22180
SHARE
Lee 
Franconia Fire Station
6300 Beulah Street
Alexandria, VA 22310
Koinonia 
Lee 
Gerry Hyland Government Center
(formerly South County Government Center)
8350 Richmond Highway
Alexandria, VA 22309
United Community
Mason 
George Mason Regional Library
7001 Little River Turnpike
Annandale, VA 22003
ACCA
Mason 
Belvedere Elementary School
6540 Columbia Pike
Falls Church, VA 22041
ACCA
Mount Vernon
Laurel Hill Elementary School
8390 Laurel Crest Drive
Lorton, VA 22079
LCAC
Mount Vernon
Mount Vernon Fire Station
2601 Sherwood Hall Lane
Alexandria, VA 22306
United Community
Providence 
The PARC at Tysons
(People, Art, Recreation, Community) 
8508 Leesburg Pike
Vienna, VA  22182
Food for Others
Providence 
Providence District Supervisors Office
3001 Vaden Drive 
Fairfax, VA  22031
Food for Others
Springfield
West Springfield Governmental Center
6140 Rolling Road
Springfield, VA  22152
Food for Others
Springfield
Pohick Regional Library
6450 Sydenstricker Road
Burke, VA 22015
Koinonia 
Sully 
Sully Government Center
4900 Stonecroft Boulevard
Chantilly, VA  20151
WFCM
Sully 
Chantilly Regional Library 
4000 Stringfellow Road
Chantilly, VA 20151
WFCM