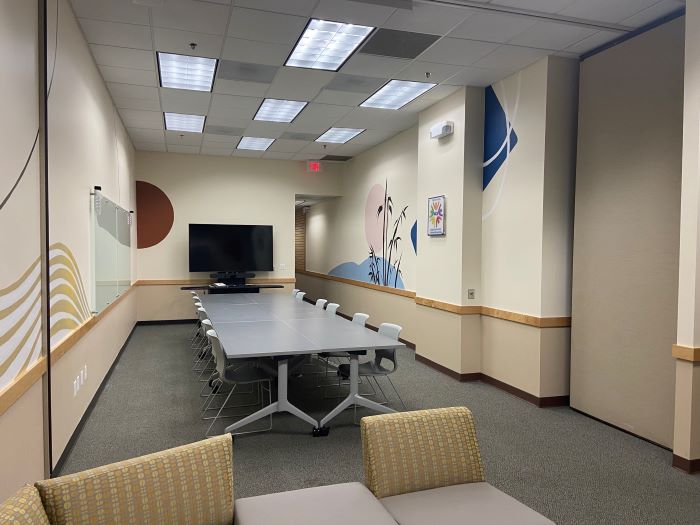 The community is invited to celebrate the re-opening of the Fairfax County Community Services Room at Tysons Corner Center. A ribbon-cutting ceremony will be held Saturday, July 29, 2023, at 10 a.m.; open house to follow. The Community Services Room - which had closed during the COVID-19 pandemic - will offer expanded access to government- and community-based resources that promote equity and create positive outcomes for people of all ages and abilities.  
NCS will offer the multi-use space in partnership with Edu-Futuro, the Fairfax County Public Library, Fairfax County Department of Family Services, and Providence District Supervisor Dalia A. Palchik. The 2,280-square foot space will provide the Tysons community and patrons of Tysons with easier access to government and community resources, including workforce and career development, case management, educational opportunities, library access, crisis intervention and mentorship.
Envisioned as a "hub of opportunity," the space will have multiple uses and programs, including:
Internet Access – Two computers will provide free internet access for employment opportunities, benefits, library cards and other resources in Fairfax County. 
Restorative Teen Programs & Services – NCS will offer supportive resources and creative outlets to youth engaged in high-risk behavior. These opportunities will establish a sense of belonging while increasing access to economic mobility and future success.
Services for Underserved Youth & Families – Edu-Futuro will serve underserved youth and families through mentorship, education, leadership development, parent engagement, case management, and workforce development. Bilingual staff will provide college/career preparation and leadership development services, outreach, and case management to students and their families, with a focus on hard-to-reach Latino, immigrant, and/or English Learner youth.
Library Services for Teens – Fairfax County Public Library's School-Age and Teen Services Outreach team will provide library outreach to teens who face barriers in accessing library services by empowering and engaging youth and demonstrating the value and relevance of the library. Planned Library services for teens include gaming, arts and crafts, STEM, book clubs, library resource workshops and more, as well as provide access to popular library materials via a curated pop-up collection available for checkout.
Domestic & Sexual Violence Services – The Department of Family Services' Domestic and Sexual Violence Services' onsite services will include education; training; help planning for safety; crisis intervention; and referrals to resources for shelter, housing, counseling, and legal assistance.  Services are available to individuals, families and community members impacted by domestic and sexual violence, human trafficking and stalking.
Fairfax County Community Services Room at Tysons Corner Center (flyer)
Ribbon-Cutting Ceremony: Saturday, July 29, 2023, 10 a.m.
Open House immediately following.
Tysons Corner Center
1961 Chain Bridge Road, McLean, VA (2nd Level outside of Nordstrom)
Closest entrance is Nordstrom. If arriving before 10 a.m., use Parking Deck A across from Michael Kors store; enter at mall entrance between Michael Kors and Maman Joon.
Contact Name
Cristin Bratt, NCS Communications Director
Contact Information
NCSCommunications@fairfaxcounty.gov