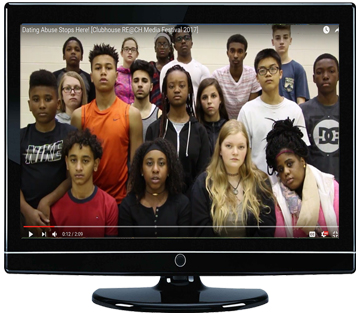 Teens from the Bailey's, Reston and Willston Clubhouses received international acclaim for their video "Dating Abuse Stops Here!" at the Clubhouse Network's Global RE@CH Media Festival. The video, written, produced and edited by the teens, was entered in the Clubhouse Collaboration category and was awarded both the Audience Choice and Judges Choice awards in the category.
In recognition of the Teen Dating Violence Awareness Month in February, the group learned more about the scope and impacts of abuse in relationships and decided to use this opportunity as a way to promote healthy relationships among youth and even adults.
"One in three teens in the United States is a victim of physical, sexual, emotional or verbal abuse from a dating partner," the group said in their submission statement. "Teens have the biggest influence on a friend's decision to leave an abusive relationship."
The Clubhouse Network's Global RE@CH Media Festival encourages youth from around the world to express themselves about issues that are important to them. The contest featured clubhouse entries from 20 countries around the globe. Categories included Animations, Documentary Video, Public Service Announcements, Graphic Design, Photography, Narrative Video, Music Video, Audio Perspective and Clubhouse Collaborations.
"I can't describe how proud I am of our Clubhouse youth for this achievement," said Jyll Turner, Technology Manager with the Department of Neighborhood and Community Services. "Not only were their technological and creative skills on display, but the fact that they used this opportunity to shed light on such a poignant and critical issue facing our society at large and, in particular, their own generation, is truly remarkable."
-------------------------------------------
Fairfax County's Clubhouse Network is a fun, creative after-school learning environment where young people work with peers and adult mentors to explore their own ideas, develop skills and build confidence in themselves through the use of technology. Program offerings include providing homework assistance, VEX robotics, chess, guest speakers and a wide variety of activities in working with emerging technologies such as 3D printing and virtual reality tools. The county's Clubhouse Network has six participating locations operated by the Department of Neighborhood and Community Services.