First Lady Pamela Northam Visits Office for Children Family Child Care Partner
On December 10, Virginia Governor Ralph Northam and First Lady Pamela Northam announced that his proposed budget will include $94.8 million in new funding for early childhood care and education. This historic investment will increase early childhood education access for at-risk three- and four-year-olds and ensure educators have the training and support they need, especially in child care settings.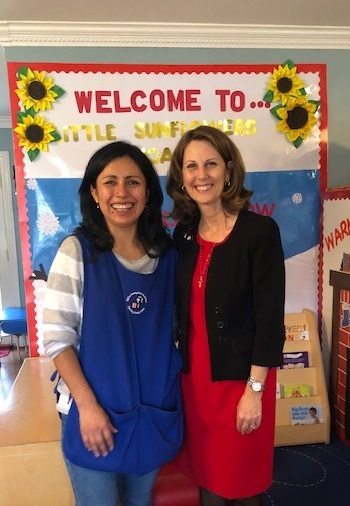 The Governor's announcement took place at the ACCA Child Development Center in Annandale, which participates in the Virginia Preschool Initiative program and is a long-time Office for Children partner.
Afterward, OFC Head Start Division Director Jennifer Branch was pleased to accompany First Lady Pamela Northam to the Annandale home of Lilian Llanos, an Early Head Start Family Child Care Partner. For nearly 11 years, Mrs. Llanos has provided high-quality care for infants and toddlers in her home. She implements the Creative Curriculum® for Family Child Care and has a Child Development Associate credential. As an EHS partner, she meets federal Head Start performance standards.
During her visit with First Lady Northam, Mrs. Llanos demonstrated how she provides enriching learning experiences that support all areas of development for the children in her care.
The First Lady of Virginia is a vocal advocate of school readiness. As quoted in Governor Northam's press release, Mrs. Northam said: "Too often, our most vulnerable children lack access to the high-quality, affordable education they need. These bold changes will grow and train our educator workforce, support families across the Commonwealth, and ensure our youngest Virginians have a strong start in life."